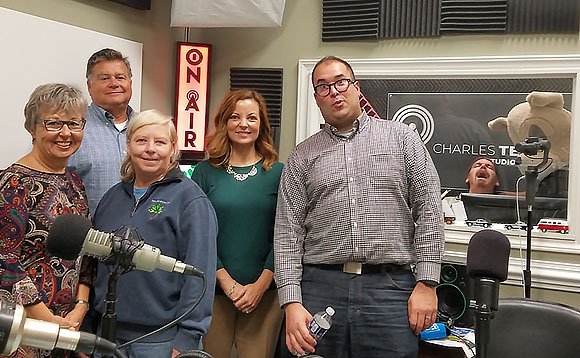 Episode 127
Connecting you with our community as we talk about the people, places, and the latest happenings in and around New Bern! During the show we talked about community news from locals; along with businesses and nonprofits! We also went Staytrippin' and Daytrippin'!
During this show, New Bern Now's Podsquad: Jane Maulucci (The Reactive Voice), Brad Poirier (Bear City Impact), Colleen Roberts (City of New Bern), Rich Sheridan (Crystal Coast Discovery Map), Charles Tendell, and I talked about the latest happening in our community on location in the Charles Tendell Studio located inside the O'Marks Bldg., 233 Middle Street Suite 107 in Downtown New Bern!
Special thanks to this episode's Sponsor, New Bern Web Design! Call Jeremy LeRay at 252-349-0270, visit them at 315 Metcalf Street, or check out NewBernWebDesign.com.
Listen here:
Show Notes:
1:12 – New Bern Web Design
2:20 – Catching up with the Podsquad
5:50 – Interview with Kathy Morrison with the New Bern Historical Society about Ghostwalk
13:47 – National School Lunch Week
17:18 – Jeanne Crockett of Crockett's Critter Care
17:39 – Author Jilliana Raymond
18:11 – "But I Hate Sales" Class with Jane Maulucci
21:47 – Marissa Zinni and Kelly Millington with Twin Rivers YMCA about the Turkey Trott and the 2019 Annual Campaign
Daytrippin':
30:13 – Social Media Minute
30:43 – Craven County Pet Expo
35:34 – Bonus Art Film – Frida
35:39 – Community Fall Festival
35:42 – "Songs for a New World"
35:49 – Havelock Chili Festival
35:57 – BSA Jamboree-on-the-Air and Science – Technology – Engineering – Math (STEM) Event
36:14 – Native Plants Tour with Dr. Tom Glasgow
36:32 – "Mali Vibes"
37:08 – The History of Downtown New Bern's Renaissance
37:57 – 19th Annual Halloween Preschooler Parade
38:19 – Interview with Meredith Laing, Director of Communications with the North Carolina Symphony about their upcoming performance: Halloween Spooktacular – The Composer is Dead by Nathaniel Stookey with Text by Lemony Snicket
43:29 – "Bee by The River Quilt Show"
44:36 – River Bend Community Day
45:13 – Bernin' to the Beach
45:19 – Free Application for Federal Student Aid (FAFSA) Day
45:35 – Golf Tournament benefiting Tabernacle Baptist Operation Christmas Child
45:44 – Trunk or Treat
45:50 – Halloween Trunk or Treat
46:35 – Fourth Annual Professional Women's Conference
47:05 – Annual Night at the Barn
47:13 – Tryon Palace Events
– It's a Hocus Pocus Halloween
– Discovering Tryon Palace: Outlander in the Governor's Palace and Outlander: Home and Hearth
– "North Carolina's Hurricane History" Lecture
– African American Heritage Walking Tour
– Behind the Scenes: Costume Shop
These are only some of the events happening in and around town. Visit NewBernNow.com as we receive information and update the community calendar every day!
We'd also like to give a shout out to our friends, Bob and Joanne Friedman as they work hard on New Bern Music Calendar Facebook page.
51:03 – Daytrippin'
– Pogies Kayak Grand Slam Tournament
– Beaufort Olive Oil Special Luncheon
– Craftsman Style Architectural Tour
– Crystal Coast Con Halloween Edition
55:44 – Charles Tendell Studio and New Bern Live
56:01 – New Bern's News Talk Radio Station WNOS 103.9FM
Let us know if you want to join us as a guest or have any questions, comments or suggestions by calling 252-259-6853 or sending us an email at info@newbernnow.com.
Thanks for joining us and thanks for listening. Have a great day!
Wendy Card