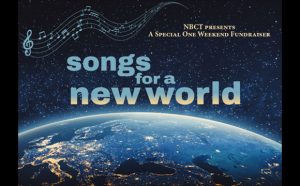 October 18, 19 at 7:30pm and October 20 at 2pm
"It's about one moment.  It's about hitting the wall and having to make a choice, take a stand, or turn around and go back."
Fundraiser for Operations and Future Renovations
An Abstract Musical Revue Written and Composed
by Jason Robert Brown.
Directed by Shawntez D'Nadre Bell and Neil Oliver (also performing)
Featuring: Chameshia Coplon, Angelina Doyle, Myriah Harkley,
Peyton Jenkins, Abigail Oliver, Krishanda Royal-Jones, John Van Dyke, and Liz Witten.
"We are truly excited to present "Songs for a New World" and share this breathtaking experience with our audience!" Angelina Doyle, Executive Director.
Songs for a New World – More than just a musical revue, Songs for a New World is an abstract musical written and composed by Jason Robert Brown.  This intricate and beautiful revue features a variety of music that will inspire you, move you, and make you laugh.  To quote Mr. Brown, "It's about one moment.  It's about hitting the wall and having to make a choice, take a stand, or turn around and go back."
These are the stories and characters of today, the Songs for a New World. The first musical from Tony Award winner, Jason Robert Brown (Parade, Bridges of Madison County), this moving collection of powerful songs examines life, love and the choices that we make.
Brown transports his audience from the deck of a 1492 Spanish sailing ship to a ledge, 57 stories above Fifth Avenue, to meet a startling array of characters that range from a young man who has determined that basketball is his ticket out of the ghetto to a woman whose dream of marrying rich nabs her the man of her dreams… and a soulless marriage.
With a small, powerhouse multi-ethnic cast and a driving, exquisitely crafted score that runs the gamut of today's popular music, Songs for a New World is a great way to bring the next generation into the theatre. It is important for NBCT to fundraise throughout the year to continue bringing quality productions and ongoing building improvements.  Songs for a New World is spectacular and challenging musically and the cast is having a blast with it.
TICKETS: (NOT including Sales Tax or Online Service Fee)
Advance: $15, Door: $16, Students & Active Duty Military: $10
Produced by special arrangement with MTI, Inc.
Submitted by: New Bern Civic Theatre