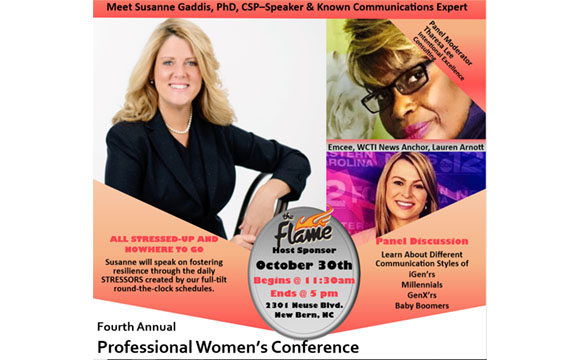 October 30, 2019 from 11:30 a.m. – 5:30 p.m.
at The Flame Banquet Center
Join CarolinaEast Health System and the New Bern Area Chamber of Commerce as we present the Fourth Annual Professional Women's Conference Registration is now open.
A high energy conference "ALL STRESSED-UP AND NOWHERE TO GO"!
Keynote Speaker, Susanne Gaddis, PhD, CSP – Speaker & Known Communications Expert, The Communication Doctor.
Learn to foster resilience through the daily STRESSORS created by our full-tilt round-the-clock schedules
EMCEE, Lauren Arnott – WCTI News Channel TV, Morning Anchor.
Panel discussion, learn how to communicate with each other
Which one are you?
iGen'rs – Millennials – GenX'rs – Baby Boomers
Healthy buffet lunch and midafternoon special dessert.
Door Prize Giveaways
Optional – Wine/Cheese Social, Meet The Speaker & Book Signing at the end of the Conference
Register online at: www.newbernchamber.com or email tsuhrie@newbernchamber.com.   Includes: Lunch, special dessert & door prizes.  Wine & cheese social, book signing after conference.
Submitted by: Sharon Roach, New Bern Area Chamber of Commerce