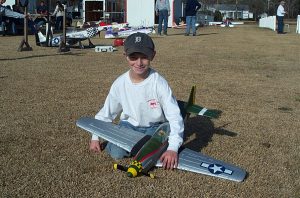 VFW Post 2514, joined by the New Bern Amateur Radio Club, the Southern Air RC Club extend to all Scouts (including Cubs) an invitation to the 2019 BSA Jamboree-on-the-Air (JOTA) and Science – Technology – Engineering and Math (STEM) event at the VFW Post facility, 3850 Butler RD, New Bern.
The event is scheduled for October 19th. The JOTA program is 7:30 AM- 3:00 PM and the STEM event 10:00 AM – 2:00 PM.
JOTA is a fun program designed to acquaint scouts with amateur radio. Scouts will join in with join with 1.3 million Scouts around the world from Algeria to Zimbabwe, in over 100 countries, talking and sharing experiences through ham radio. Ham radios will be set up in an outdoor patrol size camp site provided by BSA Troop 584 Scouts of New Bern. The STEM event will be indoors. Experienced remote-controlled airplane builders and flyers will be on hand to show several aircraft on display, answer aviation questions, and instruct Scouts how to fly a flight simulator. A highlight of the program will be actual remote-controlled fights made by a young club member. Also included in the STEM are magnet and electric experiments explained by Mr. Rick Miller, a former science teacher and STEM training specialist.
Registration fee is $8.00 for Scouts and $5.00 for Cubs. A FREE HOT DOG Lunch is provided. The event is open to all Scouts and non-scout children of Veterans, Active Duty, National Guard and Reserve members. For more information contact dowsley119@gmail.com or hughfarrellbsa@gmail.com.
Dobert Owsley, Veteran/Scouting Liaison, Craven County Veterans' Council