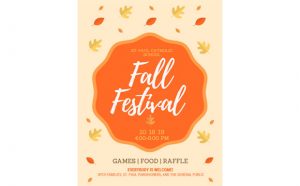 An Evening of Food, Fun, and Festivities Planned for New Bern Area
Students, staff, and the parents of Saint Paul Catholic School are excitedly preparing for the school's annual Fall Festival. Principal Dave Kierski and Home and School Association president, Joshua Walker, have high hopes for community turnout.
The festival will feature games, bounce houses, slides, food, an international food cook-off, and a raffle drawing with prizes totaling $5,000. It will be held from 4 – 8 p.m. at the school on the evening of October 18th. The festival is also serving as a fundraiser for the school. Principal Kierski hopes to upgrade the computer lab as well as classroom computers for staff members with proceeds generated from the event. Any community members who would like to participate in the international cook-off or purchase raffle tickets may do so at the school's website, stpaulcs.org, or email ​hasa@stpaulcs.org  with questions. Cook-off prizes will be awarded for Judges' Choice and Crowd Favorite.
Saint Paul Catholic School is a ministry of Saint Paul Parish. It is dedicated to the spiritual, intellectual, physical, and social development of each student. Saint Paul strives to educate the whole child and welcomes students of all faiths.
For more information, please contact Principal Dave Kierski at 252-633-0100.
Submitted by: Bob Mackowski, Marketing Coordinator, Saint Paul Catholic School