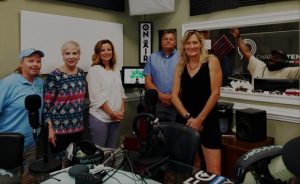 Episode 124
Connecting you with our community as we talk about the people, places, and the latest happenings in and around New Bern! During the show we talked about community news from locals; along with businesses and nonprofits! We also went Staytrippin', Daytrippin', and Nighttrippin'!
During this show, New Bern Now's Podsquad: Tracey Stones (NCMZ.live), Colleen Roberts (City of New Bern), Kathy Morrison (New Bern Historical Society), Rich Sheridan (Crystal Coast Discovery Map), Charles Tendell (New Bern Live), with and I talked about the latest happening in our community on location in the Charles Tendell Studio located inside the O'Marks Bldg., 233 Middle Street Suite 107 in Downtown New Bern!
Special thanks to this episode's Sponsor, Captain Dave Backus and Cruise The Neuse Boat Tours located on the Trent River Waterfront. Make a reservation by calling 252-876-7232.
Listen Here:

Show Notes:
1:01 – Cruise The Neuse Boat Tours
2:52 – Catching up with The Podsquad
4:25 – Persimmon's Waterfront Restaurant and Live Music
5:40 – Morehead City Marlins
6:30 – Carteret County Chamber of Commerce
7:23 – Love My City Campaign #LoveMyCityCampaign
10:15 – Interview with Father Tom Tully and Sergeant Stephen Williams to talk about Badge, Faith and Community Fun Day
18:07 – Captain Dave Backus, Cruise The Neuse Boat Tours
24:33 – Jonathan Burger – Craven Arts Council
30:11 – Social Media Minute
32:02 – Nolan Towner with Bear Tech Solutions
Staytrippin':
37:35 – Free Big Brother-Sister Mentoring Skate Night
38:00 – New Bern Missions of Mercy Dental Clinic
38:33 – Stuff the Bus
39:15 – Walk-In Bathtub presents "We Still Love You Pluto" Improv Comedy Show
39:36 – Date Night Movies in the Park: Fools Gold
39:45 – New Bern Foam & Water War Rematch
40:20 – Rock Bottom Deal Live
40:32 – Music Benefit with Hank Barbee
41:17 – Death Café: Cups, Cake, & Conversation About Death
41:31 – BBQ, Beer, and Brant Island Strings
42:09 – Footloose on the Neuse featuring Adam Pitts
42:33 – Third Annual Pig-Pickin Labor Day Luau with The Bears Live
42:52 – New Bern Farmers Market
Tryon Palace Events:
44:50 – Stedman Graham, Robert J. Brown to Present Lessons on Leadership and Identity
45:05 – Live and Local: Tryon Palace Beer Festival
45:40 – Congratulations to Jennifer Zerby – Winner of the Contest for 2 Free Tickets to the Beer Festival
57:51 – Tastebud Adventure, New Bern Live and New Bern Now will be broadcasting live – if you can't attend, check out the video to learn about our the fun things happening at Live and Local
50:04 – Behind the Scenes: Museum Technology
50:11 – Summer Movie Series: The Goonies
50:24 – Stanly – Spaight Dual
50:37 – Check out NewBernNow.com's Community Calendar for all the latest events
51:15 – WWI Monument Re-Dedication Ceremony (and Outreach to Families of the Fallen Veterans)
52:51 – Lunch and Learn with the New Bern Historical Society
Night Tripping
55:50 – NCMZ.live
54:08 – New Bern Music Calendar
56:08 – Daytrippin'
56:08 – Fort Macon State Park, North Carolina Aquarium at Pine Knolls Shores, North Carolina Maritime Museum
– Stand Up Paddleboarding
– Kayak Paddle Trip
– Natural Side of Fort Macon with Cannon Demonstration
– Delbert McClinton in Concert
– Upcoming Festivals
1:01.02 – Social Media Minute
1:01:47 – Charles Tendell Studio and New Bern Live
1:03.02 – New Bern's News Talk Radio Station WNOS 103.9FM
Let us know if you want to join us as a guest or have any questions, comments or suggestions by calling 252-259-6853 or sending us an email at info@newbernnow.com.
Thanks for joining us and thanks for listening. Have a great day!
Wendy Card