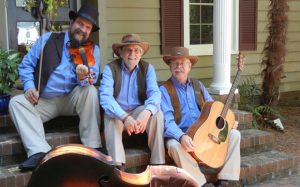 The Bluegrass trio Rock Bottom Deal will perform in the Fellowship Hall of Riverside United Methodist Church, Sunday afternoon August 25.
Rock Bottom Deal performs Bluegrass, Gospel, and other acoustic music.  Combining vocal harmony with the sounds of guitar, fiddle, and bass, Rock Bottom Deal will set your toes to tapping, your fingers to snapping, and your voice singing along.
— Dave Knight plays guitar and provides most of the group's lead vocals.
— Hal Cameron plays upright bass, and sings tenor or baritone.
— Simon Spalding plays fiddle, and sings baritone or tenor.
Riverside United Methodist Church is at 405 Avenue "A" in New Bern. The doors will open around 2:30, and the music starts at 3:00. There is no admission charge for the concert, but donations to Riverside United Methodist Church will be accepted.
Rock Bottom Deal's musical influences range from Doc Watson and Merle Travis to Flatt & Scruggs and Bob Wills. An occasional waltz or hoedown adds a little spice to the mix; now and then the boys come up with a bigger surprise!  For information, call 252-631-4117.
Submitted by: Simon Spalding