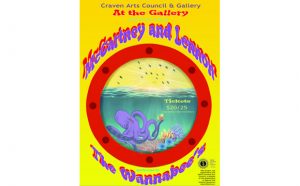 New Season of At the Gallery concerts kicks off with the music of the Beatles
September 21, 2019 at 7 p.m.
Craven Arts Council and Gallery is proud "At the Gallery: McCartney & Lennon" performed by the Wannabees on September 21st in the Main Gallery at Bank of the Arts. For the sixth season of the At the Gallery, CAC&G moves forward with their 20th Century Composers Series and beyond the borders of the United States with the music of the Beatles. The concert begins at 7 p.m. with a preconcert talk about the composers' lives at 6:30 p.m.
The iconic duo behind the music of the Beatles, Paul McCartney and John Lennon's songwriting partnership began in 1957 when the pair met at a church event. The two immediately struck up a partnership that would form the basis of the world's most iconic band, and produce more than 180 songs. Since the inception of their partnership the pair agreed that all songs written by them would feature both names, and though later disputes would see the alteration of the order and crediting of certain songs, they remain one of the most influential songwriters of the 19th century. According the Guinness Book of World Records "Yesterday" in the most covered song of all time. Hits include "Hey Jude," "Across the Universe," and "Wait."
The Wannabees play "classic rock done right," from the decades of greatest music. Featuring three and four part harmonies with dual guitars and exceptional musicianship, the groups has play a variety of venues and festivals across eastern North Carolina, including the Embrace Recovery Rally, City Stage New Bern, and the Buccaneer Music Hall.
For more information please contact Jonathan Burger, Marketing and Gallery Director, Craven Arts Council & Gallery, Inc. at the Bank of the Arts, 317 Middle St., New Bern, 252-638-2577
Submitted by: Jonathan Burger