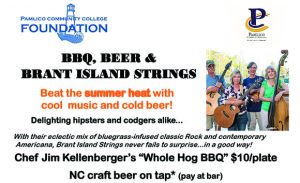 Looking for something a little different to do on a Friday night? On August 30, enjoy the soft warmth of a summer evening in the garden of The New Village Brewery and Taproom, in Oriental while sipping cold North Carolina craft beer, a plate of tasty barbecue or bean burrito cooked on site, and the eclectic sounds of Brant Island Strings. The group's bluegrass-infused classic Rock and contemporary Americana will delight hipsters and codgers alike.
The music starts at 5:30, and food will be served at 6:00. The brewery, located in an atmospheric historic home on Broad Street, Oriental, generously donates $1 for every pint sold. If wine is your preferred spirit, bring an unopened bottle; they will pour it for you for a $5.50 corkage fee. The event raises funds for Pamlico Community College Foundation, supporting student scholarships.
There will also be a small silent auction, for which the Foundation is seeking donated items. Artwork, pottery, decorative items, event tickets, vacation getaways, business services, gift certificates, and gift baskets would make excellent additions to our auction. What about those unwanted Christmas gifts sitting in the closet? Very gently used items are acceptable.
Sponsorships are also available. Become a major sponsor, food/music sponsor, or friend, and your name and/or business logo will be featured in event advertising, social media, banners at the event and on the college's electronic sign fronting Highway 306.
Contact Michelle Noevere, Foundation Executive Director at 252-249-1851, ext. 3084 for more sponsorship information or to donate a silent auction item. Donate/sponsor, and make a difference in your little corner of the world! Thank you.
Submitted by: Michelle Noevere, Pamlico Community College Foundation