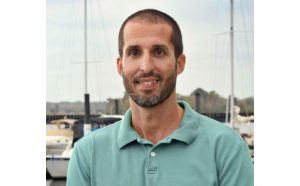 Novelist Joey Jones will hold a book signing in his hometown of New Bern, North Carolina to launch the book tour of his highly anticipated fourth novel, THE DATE NIGHT JAR. The signing will be held at Hallmark (3460 Dr. MLK Jr. Blvd) on Saturday, September 14, 2019 (12:00pm-3:00pm). Along with copies of Jones' new book, the author's notably acclaimed novels A Bridge Apart (2015), Losing London (2016), and A Field of Fireflies (2018) will be available for purchase. Each of the novels are set in Eastern North Carolina towns.
Joey Jones' writing style has been described as a mixture of Nicholas Sparks, Richard Paul Evans, and James Patterson. The ratings and reviews of A Bridge Apart (4.7/5.0 Amazon Stars), Losing London (4.8/5.0 Amazon Stars), and A Field of Fireflies (4.9/5.0 Amazon Stars) reflect the comparison to the aforementioned New York Times bestselling authors. Over 15,000 copies of Jones' novels have sold via print and e-book. Throughout the signing there will be opportunities to win various door prizes and autographed copies of Jones' novels.
THE DATE NIGHT JAR Synopsis:
An unlikely friendship. An unforgettable love story. When workaholic physician Ansley Stone writes a letter to the estranged son of her patient, she only intended to bring a little happiness to a lonely old man. Soon, she finds herself increasingly drawn to Cleve Fields' bedside, eager to hear his treasured date night jar stories. When Ansley spontaneously decides to return the jar to Cleve's son Mason, a new love story inspired by the date night jar begins to develop. But then, the startling truth about Mason's past is revealed…and Ansley's future is threatened.
About Joey Jones
Joey Jones is the author of the highly acclaimed novels A Bridge Apart, Losing London, A Field of Fireflies, and The Date Night Jar. His books are suspenseful love stories set in North Carolina, where he lives with his family. Meet Joey and learn more about him and his writing at Joey-Jones.com
Submitted by: Author, Joey Jones