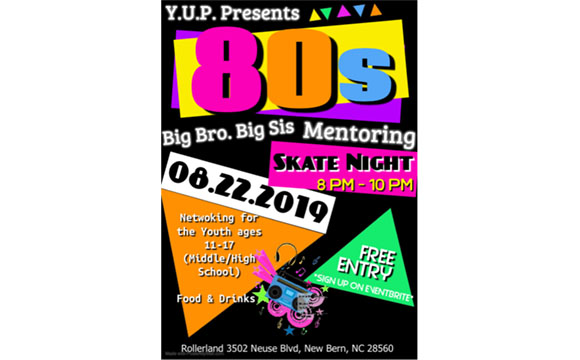 The Young Urban Professionals of Eastern North Carolina are presenting a FREE Big Bro. Big Sis Mentoring Skate Night with an 80's Theme! This event is a way to teach the youth in our community (ages 11-17) the importance of networking and growing impactful relationships. Children will be paired up with a big brother or sister to engage, learn, and build a rapport with throughout the night. We are also encouraging child-centered organizations and resources to set up information booths that children, parents, and mentors can visit to ask questions and gain access to services.
We are seeking sponsors, collaborators, and mentors. Being a Y.U.P ENC Sponsor is a great opportunity to promote your business while showing your support for the community. Since partnerships, memberships and sponsorships are the primary funding sources for Y.U.P ENC, the success of community-focused  and family-friendly events such as our Skate Night are directly related to our ability as a not-for-profit to provide education regarding business and nonprofit creation, operation, management and sustainability; to, create additional resources and income sources which can contribute to economic stimulation in struggling communities. Additionally, we would especially like to collaborate with any organization who may be considering a book bag/school supply giveaway. All donations and proceeds will go towards buying school supplies and future community-focused events.
Free youth tickets are available at https://www.eventbrite.com/e/yup-presents-big-bro-big-sis-mentoring-skate-night-80s-theme-tickets-64643480390?aff=ehomecard. Mentors can sign-up by emailing info@youngurbanprofessionals-enc.org, or messaging us on FB at Facebook.com/yupenc/.
Please click here to see document(s) listing additional details regarding this event. As you evaluate your options, please consider how invaluable it is to have community and business partnerships that collaborate to impact people's lives in an amazing way. If you are interested in being our Big Bro/Big Sis Mentoring Skate Night 2019 Title Sponsor or are interested in sponsoring future Y.U.P. initiatives, please give me a call so we can discuss your sponsorship goals.
We thank you immensely for your consideration. If you have any questions or concerns, do not hesitate to contact me. Y.U.P of ENC is grateful for your involvement in the community and we look forward to partnering with you.
Submitted by: Talina L. Massey, Owner – Business Savvy, LLC and Chair – Young Urban Professionals, ENC