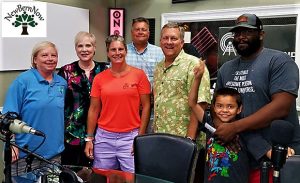 Episode 122
Connecting you with our community as we talk about the people, places, and the latest happenings in and around New Bern! During the show we talked about community news from locals; along with businesses and nonprofits! We also went Staytrippin', Daytrippin', and Nighttrippin'!
During this show, New Bern Now's Podsquad: Kathy Morrison (New Bern Historical Society), Jeremy LeRay (New Bern Web Design), Bethany Richards (Bike Box Project), Rich Sheridan (Crystal Coast Discovery Map), Charles Tendell (New Bern Live), with and I talked about the latest happening in our community on location in the Charles Tendell Studio located inside the O'Marks Bldg., 233 Middle Street Suite 107 in Downtown New Bern!
We were joined by special guests: Darlene Brown, Heidi Ricks, and Mark Sandvigen.
Special thanks to this episode's Sponsor, Neuse Realty. Visit them at 601 Broad Creek Rd. or call 252-633-4888.
Listen here:

Show notes:
00:57 – Neuse Realty
01:53 – Catching up with the Podsquad:
– Ghostwalk and Honour, The Musical Fundraising Dinner
– Southern Gentlemen Chorus accepting Ladies to join the Chorus
15:59 – Interview with Darlene Brown, Executive Director, Craven County Partners In Education – Upcoming Stuff the Bus School Supply Drive and other Initiatives
24:23 – Interview with Heidi Ricks, Guidance Counselor and Volleyball Coach at New Bern High School – Fundraiser for Volleyball Team – The Neuse River Summer Slam Fishing Tournament
31:14 – Interview with Mark Sandvigen – Project for American Legion and New Bern Historical Society
Staytrippin':
40:35 – Hello Dolly
40:40 – Date Night Movies in the Park: Nights in Rodanthe
41:05 – Death Café: Cups, Cake, & Conversation About Death
41:39 – Yamaha Grand Piano Dedication Recital
42:14 – Autismazing.org holding its first annual Ice Cream for Breakfast Fundraising Event
42:55 – World's Largest Golf Outing
45:01 – New Bern Drum Circle
45:40 – Coastal Women's Forum Dinner and Discussion on "Building Bridges"
45:49 – ArtWalk – New Bern
46:03 – Survivor Knights New Bern
46:37 – YPG River Jam
46:43 – The Enchanted Baroque – Community Concert
46:53 – Assassins, The Musical
47:27 – Tryon Palace Events
– Tryon Palace Multicultural Fair
– Behind the Scenes: Conservation Lab
– First Friday: Hair!
– Behind the Scenes: Costume Shop
– Palace Pours: Shandies in the Shade
48:54 – Nighttrippin'
49:49 – Daytrippin'
– Morehead City Marlins
– NC Aquarium at Pine Knoll Shores
– Sounds like Summer at the Park
– Olde Beaufort Farmers' Market
– 14th Annual NC Japan Summer Festival
56:35 – Charles Tendell, Parker Millar, and New Bern Live
58:34 – The History of Beach Music with Jackie Gore
The Podcast also airs on New Bern's News Talk Radio Station WNOS 103.9FM every Wednesday at 8 a.m. and 5 p.m.
Let us know if you want to join us as a guest or have any questions, comments or suggestions by calling 252-259-6853 or sending us an email at info@newbernnow.com.
Thanks for joining us everyone and thanks for listening. Have a great day!
Wendy Card