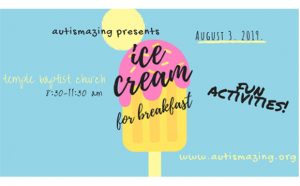 Saturday, August 3rd
NEW BERN, NC – Autismazing.org is inviting the public to have Ice Cream for Breakfast on Saturday, August 3 from 8:30 – 11:30 a.m. at Temple Church in New Bern.
For a $5 tax-deductible donation per person, participants can choose arrival times of 8:30, 9:00, 9:00 or 10:00 a.m. There will be ice cream, topping bar, non-dairy Italian Ice, coffee station, baked goods, and other treats. In addition to breakfast, there will be activities, superheroes, princesses, and raffle prizes.
"Ice Cream for Breakfast is unexpected, which is like living with someone with autism. The experience can be irrational, illogical, but wonderful," said Margaret Chance, founding board member, Autismazing.org, and mother of 21-year-old twin daughter Katie who is on the autism spectrum.
Advanced ticket purchase is strongly encouraged. For more information and to get tickets, go to the web page: www.autismazing.org/icecream
The following organizations have helped make this event possible: BTA Entertainment, Coastal Children's Clinic, Heart of a Warrior, Nana's Goods, Priorities ABA, Project Superhero, Simply Natural Creamery, and Temple Church (as 7/22). If your company would like to support this event, contact: ­autismazing@gmail.com, 252-474-5707.
About Autismazing.org
Autism Spectrum Disorder is a medical condition that affects the brain (neurological) in approximately 3.5 million people in the U.S. While a person may have a normal physical appearance, autism affects behavior. Autism can make it difficult for a person to interact socially. Autistic adults are statistically underrepresented in higher education and in the workplace.
Autismazing.org is a 501(c)3 nonprofit corporation with a mission to improve higher education, employment and entrepreneurship opportunities for young adults 13-30 years of age on the autism spectrum through financial support, programs and other initiatives. For more information visit: www.autismazing.org.
Submitted by: Deborah Kania