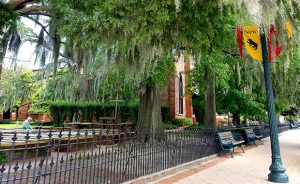 Performance to feature music of Mozart, Gershwin, Schubert, Milhaud and more
New Bern, NC – Christ Church will formally introduce its recently obtained, full concert Yamaha grand piano with a dedication recital on Friday, August 2, 2019. The concert will feature duet pianists, Marcia Klinder-Badgley and Clifford Badgley, playing the music of Mozart, Gershwin, Schubert and Milhaud, among other classical selections.
The C6x concert grand piano came to Christ Church earlier this summer and is the flagship model in the worldrenowned Yamaha Cx series.
"At seven feet long, she has the power and presence to lead worship and is a formidable instrument for concerts and recitals," says Clifford Badgley, Director of Music.
A quality piano had been identified as a priority for the parish, and through the generosity of an anonymous donor, the project became a reality.
"We are beyond grateful to God and to our anonymous donor for sharing the gifts God has given them," continues The Rev. Paul Canady, Rector of Christ Church.
The recital will be held Friday, August 2 at 320 Pollock Street in New Bern, beginning at 7:00 p.m. Admission is free.
For more information, please contact Betsy Downard, Communications Coordinator at 252-633-2109.
The mission of Christ Episcopal Church is to welcome and inspire all people to faith, hope and spiritual growth through worship, Christian fellowship, and service to one another and to the community beyond. Our vision is to be a church that loves the way God loves.
Submitted by: Betsy Downard, Communications Coordinator, Christ Episcopal Church