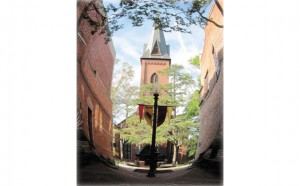 21st: Lizzy Ross Band in Concert, doors open: 8:00pm and show starts: 9:00pm at the Broad Street Social Club. For details visit Lizzy's website.
21st – 23rd: The Rainmaker, Fri – Sat: 8:00pm, Sun: 2:00pm at the New Bern Civic Theatre. For details call 252-633-0567
22nd: "Fall Fly In" Air Show, 9:00am in Gaskins Field, Vanceboro, presented by the Southern Air RC Club, 252-635-1684
22nd: Free Dog Safety Program, 12:00pm at Jill's Pet Gallery, 221 Kale Rd. For details call 252-672-5933
22nd: New Bern Battle of the Bands, 1:00pm – 9:00pm at the Twin Rivers YMCA. For details call 252-638-8799
22nd: Craven County 300th Anniversary Heritage Event, 10:00am – 9:00pm at the New Bern Riverfront Convention Center. For details call 252-637-9400
23rd: Brahm's First Symphony, 7:30pm, presented by the North Carolina Symphony at the New Bern Riverfront Convention Center. For details call 877-627-6724
Check out local Amusements:
– Captain Bly's Shipwreck Cove, 4605 Hwy 70 E., 252-636-2683
– Disc-Frisbie Golf Course located in Glenburnie Park, Glenburnie Rd., New Bern
– Rollerland, roller skating rink, 3502 Neuse Blvd., New Bern 252-633-3804
– The Strike Zone, bowling alley, 3550 Martin Luther King, Jr. Blvd., New Bern 252-637-6033
Visit The City of New Bern's Parks and Recreation and Craven County Recreation and Parks to see a detailed listing of all the parks and events in New Bern.
We also have many tour options!  You don't have to be a tourist to check out these fun activities and enjoy the weekend!
–  Bear Town Bears Walking Tour
–  Captain Fins Pontoon and Kayak Rentals and Tours, 252-876-2288
–  Captain Nick's Sightseeing Boat Rides, email
–  Carolina Carriage & Tours, 252-675-5360
–  Cedar Grove Cemetery Tours, 252-635-1374
–  Colonial Capital Helicopter Tours, Kale Storage Rd., 252-514-2242
–  Ghosts of New Bern Walking Tour, 252-571-4766
–  Lookout Lady Cruise, New Bern Grand Marina F Dock, 252-728-7827
–  New Bern Fireman's Museum, 408 Hancock St., 252-636-4087
–  New Bern Tours and Convention Services, 333 Middle St., 252-637-7316 or 800-849-7316
–  On The Wind Sailing Cruises, 252-670-3047
–  Palm Coast Tours and Outings, 252-665-1175
–  Self-Guided African American Heritage Tour sponsored by the Craven County Convention and Visitors Center, 252-637-9400
–  Tryon Palace and the North Carolina History Center, 252-637-9400
–  Tugboat Cruises LLC, 101 Craven St., 252-349-3819
–  Walking Tours, Tryon Palace Historic Sites and Gardens, Corner of Pollock and George Sts., New Bern, 252-514-4900 or 800-767-1560
If you know of any events, amusements, or tours that aren't listed, please comment below or send us an email. You can also follow us on New Bern Now's Facebook page!
Have a great weekend!
Wendy Card