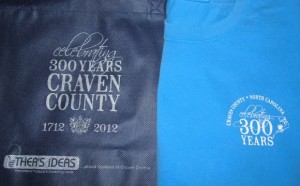 You are cordially invited to join Craven County in celebrating its 300th Anniversary on Saturday, September 22, 2012 at the New Bern Riverfront Convention Center. The celebration will feature community exhibits, lectures, family history displays, children's activities, live entertainment and more.
Craven County was founded in 1712 and named for William, Earl of Craven. Native Americans of the Tuscarora Tribe originally inhabited the region which was later settled by German, Swiss and English colonists. New Bern, located at the confluence of the Neuse and Trent Rivers, is the county seat of Craven County. New Bern was also the first capital of North Carolina and is known for its rich history and beautiful location. Other significant towns in Craven County include Havelock, Fort Barnwell, Tuscarora, Bridgeton, Trent Woods, Vanceboro, Jasper and Dover.
Please join us to take part in the celebration with the following line-up of activities:
10:00am – 1:30pm: Lectures Sponsored by the Family History Society of Eastern North Carolina, Craven Community College and Phi Theta Kappa Honor Society
2:00pm – 6:00pm: Opening Ceremony of County Entertainment Program and Community Exhibits. Will include Children's Activities, Family History Displays, Entertainment by the Heritage Chorale and various community performers.
6:00pm – 9:00pm: Entertainment on the New Bern Riverfront Convention Center Veranda
Information provided: Craven County Convention and Visitors Center, 203 South Front St., New Bern, 252-637-9400
You can purchase 300th memorabilia at Mitchell Hardware now and/or during Saturday's celebration at the New Bern Riverfront Convention Center!
Submitted by: Thea Kincaid of Thea's Ideas