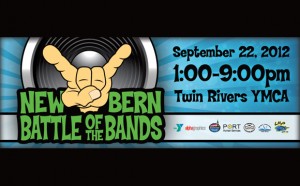 Join us on Saturday, September 22nd from 1pm – 9pm on the site of the Twin Rivers YMCA sports fields for the New Bern Battle of the Bands. 
The event will bring teens from across Craven County together to connect with their peers through music as part of Craven County's 300th anniversary. Teen singers, songwriters, performers and garage bands will perform on stage throughout the day while youth serving organizations and non-profits will distribute literature and information about programs available. 
There are currently 5 confirmed bands (and more to come) with a headlining set by Awake the Fire to close out the main stage.
The YMCA pool will be open after hours just for teens with a special acoustic stage and DJ set on the pool deck.
This event is free to the public! Brought to you by the Twin Rivers YMCA, New Bern Parks and Recreation, New Bern-Craven County Public Library, New Bern Civic Theatre, Temple Baptist Student Ministries and PORT Human Services. Sponsored by BoJangles, Craven Community College, East Carolina Brace & Limb, Dun'Artie Salon & Day Spa, Wiley's Flowers & Gifts, Alpha Graphics of New Bern and MD Custom Signs & Designs. Find us on facebook!
Submitted by: Justin LeWinter, Teen & Family Services Director, TWIN RIVERS YMCA