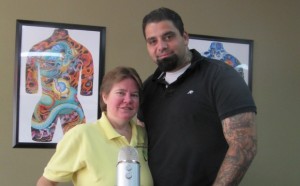 Laura Johnson met with Alex Liverano, owner of Ol Skool Tattoos, to learn more about the "Inking for a Cure" fundraiser. The interview is airing on WNOS 105.9FM and 1450AM. Listen to the interview here:
For the entire month of October 2012, people can come in for a cancer awareness tattoo and a large percentage (minus the cost of the ink/needles) will be donated to the CarolinaEast Foundation.
The have pre-drawn cancer awareness ribbon tattoos but if someone wants something different, their artists will be able to create custom drawings. Appointments may be needed to set up for custom and/or larger tattoos.
They are also hosting a breast cancer awareness raffle and the money goes to the CarolinaEast Foundation.
Visit Ol Skool Tattoos at 1908-D S. Glenburnie Rd., New Bern, call 252-638-9212 or check out their Facebook page.
They are open Monday – Thursday from 1pm – 9pm; Friday – Saturday from 12pm -10pm and on Sunday 1pm – 6pm.
Special thanks to Alex and his team for "Inking for a Cure"!
Tell us what you think by commenting below or sending an email. "Like" New Bern Now's Facebook page to follow the latest happenings!
Wendy Card