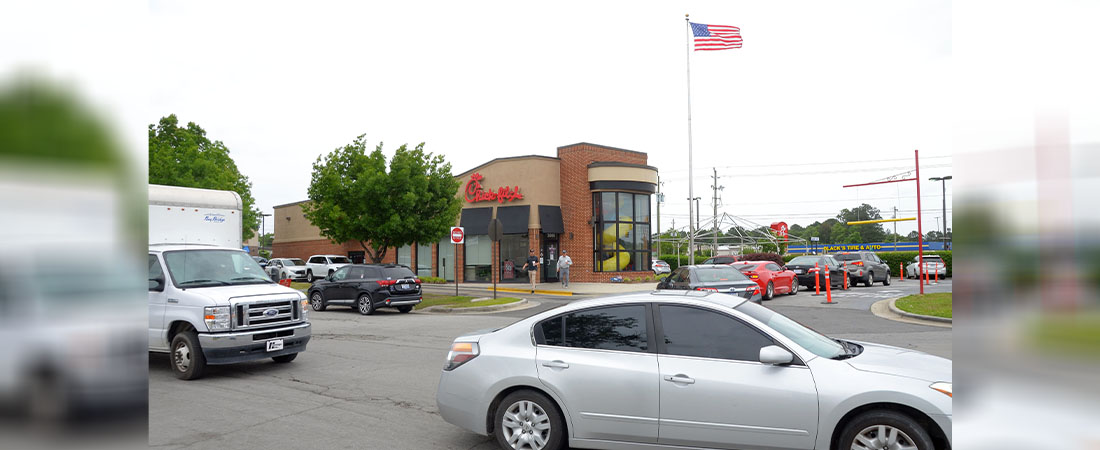 Chick-fil-A, Inc. has confirmed a start date for a project to demolish and rebuild its restaurant on Dr. Martin Luther King, Jr. Boulevard in New Bern. 
As reported last week by New Bern Now, a site plan for the project was submitted to the City of New Bern and appeared on the agenda for the May 26 meeting of the New Bern Departmental Review Committee. That meeting was not held, however, after the applicant failed to send a representative to address the committee.  
The site plan outlines the construction of a new Chick-fil-A on the same property but relocated east of the restaurant's current location closer to U.S. 70.
According to a May 30 email from Chick-fil-A, Inc, construction is estimated to begin in mid-2024, assuming there are no delays.
"We are pleased to share that Chick-fil-A New Bern is planning to undergo a complete rebuild of the restaurant to make overall updates and improvements to better and more efficiently serve our guests," the email states. "We will provide further updates on timing once the project begins."
Chick-fil-A, Inc. did not provide details on how long the New Bern restaurant may be closed during the demolition and construction process or what changes may be made to the new location.
The site plan provided to the New Bern DRC appears to provide for more parking space on the side of the restaurant closest to the New Bern Mall entrance, with a total of 72 spaces listed.
The document also shows a multi-lane drive-thru and outdoor patio seating. 
Submission of the site plan is simply the first step in a lengthy process to get final approval from the city. According to Seth Laughlin, land and community development coordinator with New Bern Development Services, various City of New Bern departments will need to sign off on recommended changes and fees before final site plan approval is granted.
By Todd Wetherington, co-editor. Send an email with questions or comments.
Related article: Site plan for demolition, rebuilding of New Bern Chick-fil-A would add additional parking