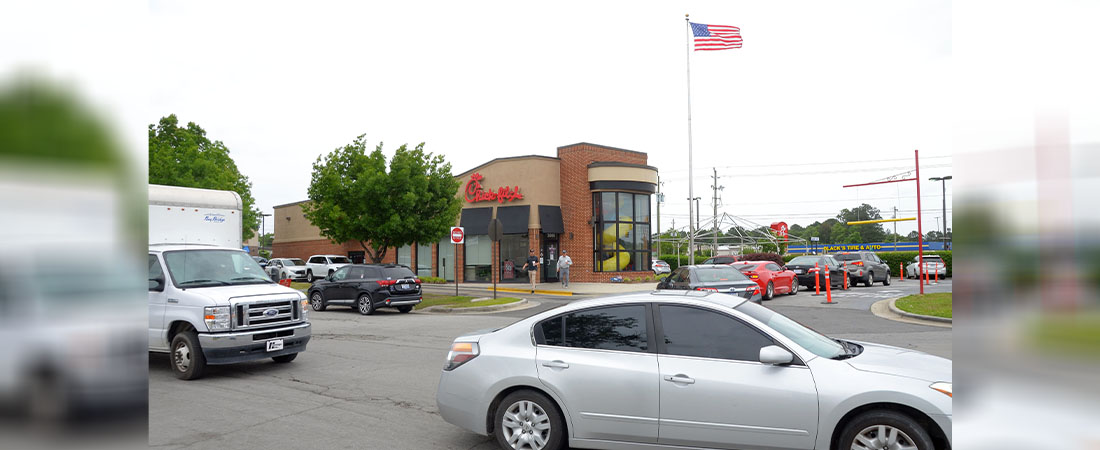 A site plan has been submitted to the City of New Bern to tear down and rebuild the Chick-fil-A restaurant on Dr. Martin Luther King, Jr. Boulevard. 
The item was listed on the agenda for the May 26 meeting of the New Bern Departmental Review Committee as a "Site plan for a proposed demo and reconstruction of the Chick-fil-A restaurant located at 3000 Dr. MLK Jr. Blvd."
According to documents provided with the agenda, the plan calls for the current Chick-fil-A to be demolished and a new building constructed on the same property closer to U.S. 70 east of the restaurant's current location. 
On the site plan, both the engineer/applicant and the architect are listed as Interplan PLLC of Altamonte Springs, Fla.
Seth Laughlin, land and community development coordinator with New Bern Development Services, said the plan would eliminate much of the traffic congestion at the restaurant's entrance during business hours. 
The plan would provide for more parking space on the side of the restaurant closest to the New Bern Mall entrance. The site plan lists a total of 72 parking spaces that would be available with the new construction. 
The document also shows a multi-lane drive-thru and outdoor patio seating. 
Laughlin said the applicant had yet to provide a timeline for when they would like the project to begin. The planned DRC meeting on May 26 did not take place since Chick-fil-A and another applicant failed to schedule a representative to speak with the committee. 
Laughlin said the plan would need to go before the various City of New Bern departments for recommended changes, fees, and the submitting of stormwater plans, among other necessities. 
If the departments signed off on the project, Laughlin would then issue a site plan approval document and the applicant could apply for a building permit, he said. 
Since the plan would impact a Department of Transportation roadway, additional DOT permitting may be required, Laughlin noted. 
New Bern Now has reached out to the Chick-fil-A head office in Atlanta, Ga. for more information on the proposed plan. We will provide updates as more information becomes available. 
By Todd Wetherington, co-editor. Send an email with questions or comments.