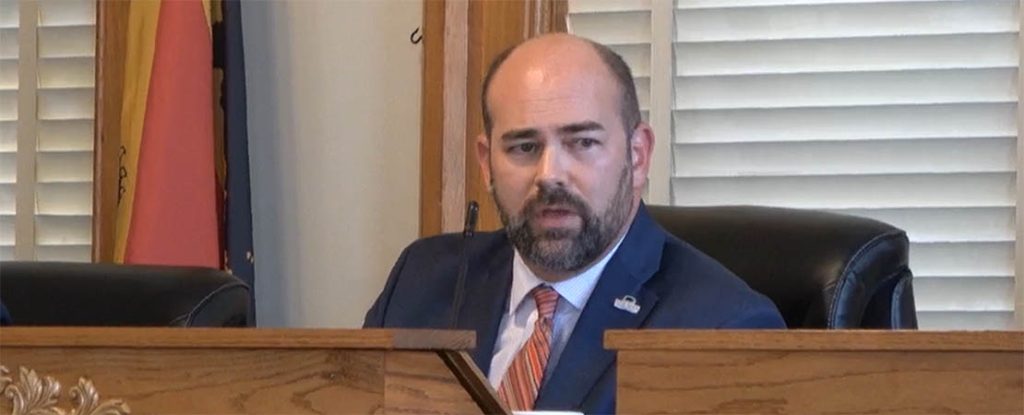 After a month of denying connection to McCullough Farms, LLC, and P & J of New Bern, LLC, Mayor Jeffrey Odham admitted he was the Manager of both businesses. His admission came after Developmental Services made the presentation for rezoning land owned by both LLCs to the Board of Aldermen during Sept. 13, 2022 meeting.
The mayor said, "Mr. Davis, I'll defer to you. By the time the applicant placed this application for the rezoning, I was listed as the manager for the LLCs that I'm no longer associated with…could you provide some direction and clarity with that?"
City Attorney Scott Davis explained the recusal process, "How does the city verify whether or not a public official has an ownership interest in an entity that might come before you? There are two things needed: First thing is, just ask you. Do you have an ownership interest in the entity? The second thing I do, I personally follow up with the attorney that represents that entity just to verify that there's no official that has an interest in that entity. That's all we can do, that's the best we can do."
He also advised the board what they should do if they think they may have a conflict of interest in the future.
After a lengthy lecture on legalities, the attorney advised the board that it would be appropriate to excuse the mayor from voting by making the motion.
Alderman Aster said, "I make a motion to recuse or excuse the mayor from voting on this particular rezoning." It was seconded and passed unanimously.
During the public hearing, Craeberne Forest Subdivision residents expressed concerns about the rezoning of 413.39 +/- acres, management, stormwater issues, ingress/egress, and lack of transparency. They asked board members to come to their neighborhood and see the issues for themselves before voting.
Brandi McCullough spoke on behalf of her father, Patrick McCullough. She repeated his talking points when he presented the request to the Planning & Zoning board during their Aug. 4 meeting.
Alderman Brinson made the motion to rezone the properties. Aldermen Aster, Brinson, Kinsey, and Prill voted yes. Aldermen Best and Royal voted no.
Today, three days after the mayor told the city attorney and the BOA that he was no longer connected to the LLCs, we did a basic search of the parcels in question on Craven County GIS iMaps website and found that Jeffrey Odham's home address is still listed on the properties. Therefore, New Bern's mayor is still connected to these businesses.
Do you have questions for your elected officials? Contact them via the city's website here.
Comments or questions for us? Send us an email.
By Wendy Card, Editor
Related articles include Records Reveal New Bern's Mayor is Connected to Land Developer, New Bern Mayor Odham Won't Acknowledge Business and "Close Familiar" Relationship, and Attention Craeberne Forest Subdivision Residents: Public Hearing to Rezone Land on Sept. 13.