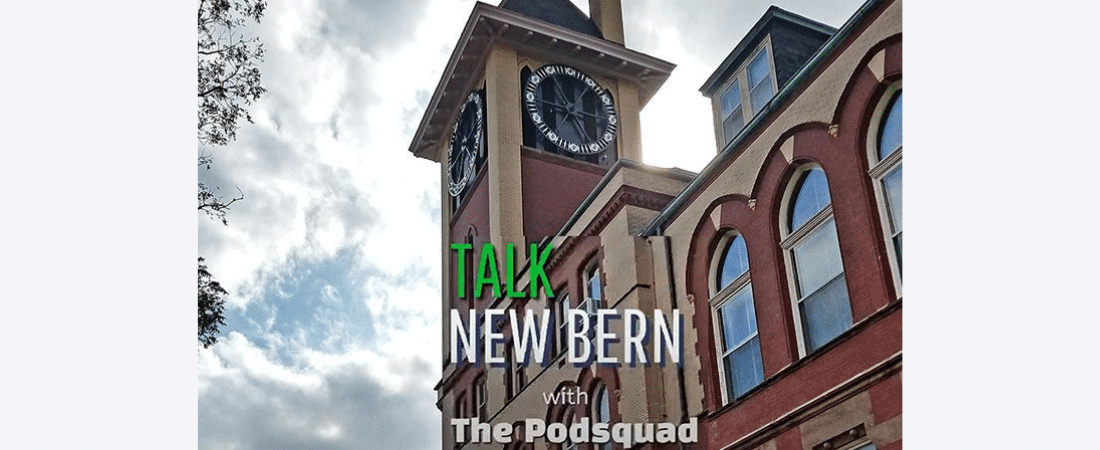 The Podsquad — Jane Maulucci, Jeremy LeRay and Wendy Card had a great time talking about the people, places, and happenings in New Bern & beyond. Congratulations to Sonja Babic for winning a gift certificate to McCoy's Grill Chicken & BBQ!
Watch:
Listen:
Show Notes:
00:57 – Catching up with The Podsquad
03:47 – Coastal Women's Forum Trade Share
10:55 – Jeremy LeRay of New Bern Web Design
25:00 – Edwin Vargas, Candidate for Craven County Commissioner District 4
33:53 – Marianne's book
35:56 – Upcoming Election Schedule
38:01 – United Way of Coastal Carolina's "Books for Littles" drive
41:23 – Craven County Sheriff's Office Public Auction of Seized Property
44:11 – New Bern Mardi Gras
45:39 – Nexus Poets March Open Mic
46:34 – Valentine's Day Card
47:17 – Twin Rivers Quilting Guild Exhibit
47:36 – Looking Back, Moving Forward: Images from Civil Rights Movement in the South
48:06 – Tracing Our Past, a Reflection
48:34 – Eastern Carolina Aviation Heritage Foundation Gala
49:07 – The Wedding Singer
50:06 – Erika Butters Recital
50:54 – North Carolina Symphony Rachmaninoff Symphony No. 2
51:27 – "Perceiving Strength" Women's Tea & Fundraiser
51:48 – New Bern Music Calendar
52:12 – New Bern Farmers' Market
57:43 – Zaks of Mallardtown in Trenton
59:12 – Coastal Sole
The video and audio will be uploaded to NewBernNow.com, Youtube, iTunes, Libsyn, and wherever you listen to your podcasts.
You can also listen to the show on New Bern's News Talk Radio Station WNOS 103.9FM by tuning in every Wednesday at 8 a.m. and 5 p.m.
We'll be back on March 10, 2022 from 1:00 p.m. – 2:00 p.m. Watch live on New Bern Now's YouTube Channel and NewBernNowNC's Facebook page.
Let us know if you'd like to be a guest or if you have any questions by sending us an email.
By Wendy Card