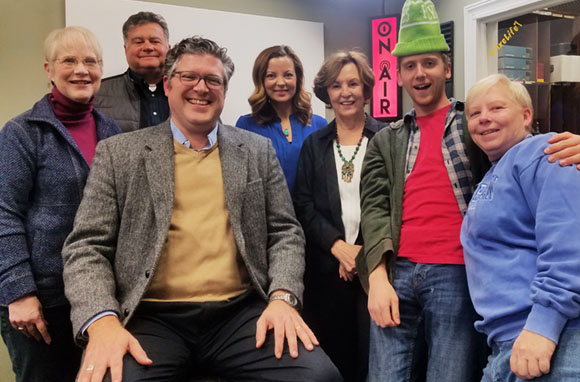 Episode 129
Connecting you with our community as we talk about the people, places, and the latest happenings in and around New Bern! During the show we talked about community news from locals; along with businesses and nonprofits! We also went Staytrippin' and Daytrippin'!
During this show, New Bern Now's Podsquad: George Oliver (Law Offices of Oliver & Cheek), Kathy Morrison (New Bern Historical Society), Colleen Roberts (City of New Bern), Rich Sheridan (Crystal Coast Discovery Map), Susan Moffat-Thomas, Charles Tendell, and I talked about the latest happening in our community on location in the Charles Tendell Studio located inside the O'Marks Bldg., 233 Middle Street Suite 107 in Downtown New Bern!
Special thanks to this episode's co-sponsors:
Rhonda Tennant, owner of Healing Paws Canine Massage Therapy, call or text 252-229-5509 or visit Healing Paws Canine Massage Therapy Facebook page.
Nolan and Christian of Bear Tech Solutions, call 252-649-2404 or visit BearTechSolutions.com.
Listen here:
Show notes:
00:49 – Healing Paws Canine Massage Therapy
3:15 – Tastebud Adventure visits Memphis
5:38 – The Podsquad is taking the show LIVE on the road to Carolina Creations
8:59 – George Oliver receives Citizen of the Year Award from New Bern Woman's Club
Books Recommendations: The Confederacy of Dunces and The book called Song
11:13 – Discovery Map Crystal Coast
12:17 – Updates from New Bern Historical Society
– Gingerbread House Contest and Display
– Annual Lore Lecture, Retracing John Lawson's Voyage of Discovery by Author Scott Huler
14:48 – North Carolina Aquarium Happenings
17:09 – Interview with Jim Hackett with Faith Connection of New Bern's Community Forum
23:10 – New Bern featured on Switzerland on Sound Podcast
25:30 – Social Media Minute
29:05 – Thanksgiving and Christmas Trivia
32:50 – City Hall Updates
Staytrippin':
34:08 – "Shabby to Chic" and Auction Fundraiser
35:10 – "Lewis n Clark" Expedition: Timeless Broadway Showtunes
35:34 – Holiday Gift Show and Home Expo
35:48 – The Hunchback of Notre Dame
36:26 – Craven CC to hold STEM Event
36:40 – The American Revolution – A Maritime Conflict with RADM Jay DeLoach, USN, Ret.
37:23 – New Bern High School Murder Mystery Theatre
37:34 – Mitchell's Annual Ladies Night
38:49 – Coastal Women's Forum Lunch and Networking
39:37 – The Hunchback of Notre Dame
40:47 – Turkey Trot 2019
41:48 – Tryon Palace Events
– Tryon Palace Cultural Arts Series Presents: "Letters From Home"
– Discovering Tryon Palace: Outlander in the Governor's Palace and Outlander Home and Hearth
– Behind the Scenes: Costume Shop
– African American Lecture Series: "The Musical Impact of the Second Great Migration"
– African American Heritage Walking Tour
– Behind the Scenes: Conservation Lab
– Discovering Tryon Palace: Holiday Décor
42:54 – Bear Tech Solutions and "Tech Tuesdays"
46:15 – A Family Christmas Concert with Strung Together
49:12 – New Bern Farmers Market
49:25 – New Bern Music Calendar Facebook page
These are only some of the events happening in and around town. Visit NewBernNow.com as we receive information and update the community calendar every day!
49:56 – Daytrippin'
– Events at the Beaufort Historic Site
– 34 Degrees North Restaurant
– Swansboro Christmas Flotilla
– Small Business Saturday
47:13 – Social Media Minute
58:29 – Charles Tendell Studio and New Bern Live
59:19 – New Bern's News Talk Radio Station WNOS 103.9FM
59:40 – Behind the Scenes with The Podsquad
Let us know if you want to join us as a guest or have any questions, comments or suggestions by calling 252-259-6853 or sending us an email at info@newbernnow.com.
Wendy Card