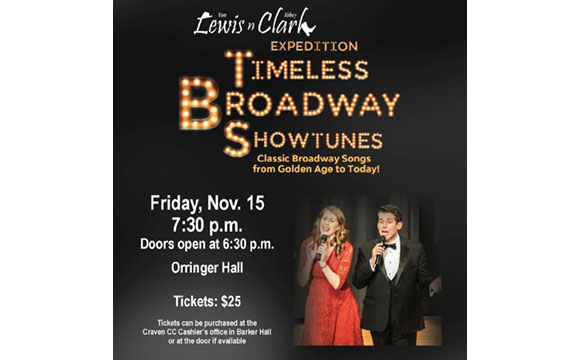 New Bern, NC – Craven Community College's Adult Enrichment Program will host singers Von Lewis and Abbey Clark for the "Lewis n Clark" Expedition: Timeless Broadway Showtunes Friday, Nov. 15 at 7:30 p.m. at Orringer Auditorium on the New Bern campus.
With Tim Maddox on piano, "Lewis n Clark" will explore timeless showtunes from Broadway's greatest hits. Starting with the Golden Age of Musicals in the 1930s up to songs from today's Broadway musicals, this intimate experience is sure to entertain and educate.
Doors open at 6:30 p.m. and tickets are $25. Tickets are available in the cashier's office in Barker Hall or at the door if available. For more information, contact Megan Johnson at 252-638-7273.
Submitted by: Craig Ramey, Director of Communications, Craven Community College