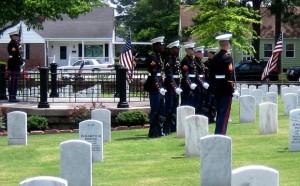 26th – 30th: National Vietnam Memorial Traveling Wall on display, Opening Ceremony on the 26th at 11:00am. Courtesy of the Otway Burns Chapter Daughters of the American Revolution and Big Rock at the Glad Tiding Church, 4621 County Club Rd., Morehead City. Call 252-636-5543.
26th: Bluesman Arthur Shuey in Concert, 6:00pm at the Trent River Coffee Company. Call 252-514-2030.
26th: The Music of James Taylor and Carly Simon, 8:00pm – 11:00pm at The City Laundry. Call 252-876-7007.
27th: Celebrate Memorial Day with Military Appreciation Day at the New Bern Farmers Market from 8:00am – 2:00pm. Call 252-633-0043.
27th: The Joseph Community Farmer's Market Season Opener, 9:00am – 1:00pm at 2305 Neuse Blvd. Presented by Peletah Ministries. Call 252-633-1624.
27th: Open Mic Night, 6:30pm at the Trent River Coffee Company. Call 252-514-2030.
28th: 35 Years of Neighborhood Preservation with Ben and Newsom, 3:00pm – 4:30pm at the North Carolina History Center. Presented by the New Bern Preservation Foundation. Call 252-633-6448.
29th: Memorial Day Service hosted by the Knights of Columbus, Angelo Battista Assembly #2894, 9:00am the Havelock Tourist and Event Center. Call 252-444-4348.
29th: Military Appreciation Day, 9:00am – 5:00pm at the Tryon Palace. Call 252-639-3500.
29th: Annual Craven County Veteran's Council Memorial Day Celebration, 11:00am the New Bern National Cemetery. Call 252-636-5543.
Listen to our latest Podcast to hear more about the latest happenings in New Bern and Beyond:

What are you doing this weekend?
Tell us what you think sending us an email. Visit New Bern Now's Facebook page or sign up for the latest updates by submitting your email address in the right margin on New Bern Now's website.
Wendy Card