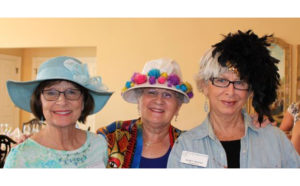 The Coastal Women's Forum Annual Hat Social and Buffet Dinner Meeting will be held on Thursday, June 8 at the New Bern Golf and Country Club, from 5:00 to 8:00 PM. Cocktails and networking will be followed by dinner, games and prizes for the winning hats. This year's theme is "Who Do You Literally Love?" Select a favorite literary character to represent in a fabulous chapeau! The categories are:
Favorite Villain – So bad you rooted for her.
Favorite Childhood Character – The one you imagined yourself to be
Favorite Romantic Character – She's the champion who got the champion. Or not.
Favorite Mystery Character – She either did it or figured out who did.
Favorite Historical Character – Factual or fictional, she's historical!
This event is free for members with all accounts payed, and $23 for guests. Reservations must be made by Monday, June 5.
Contact Dinner Coordinator, Judi Dorn at 252-638-3933.
To register online, or to learn more about what Coastal Women's Forum has to offer, visit CoastalWomensForum.com for more information.
By Contributing Author: Penny Zibula, SixLegsWillTravel.com