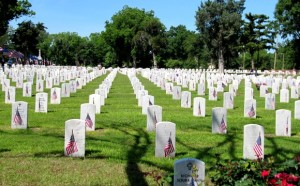 On Monday, May 29th, veterans and the local community are invited to attend the Memorial Day Ceremony at the New Bern National Cemetery, located at 1711 National Avenue, 11:00am – 12:00pm.
The Memorial Day Ceremony dates back to the time following our Nation's Civil War. It was known then as "Decorations Day" because graves were decorated by civic groups and families with May flowers and flags in commemoration of fallen veterans. Today, we do the same on what is now "Memorial Day"; a special day when we as a Nation pay tribute to all veterans no longer in our ranks. We honor and respect their service, their sacrifice and their unfilled dreams.
In preparation for Memorial Day the New Bern National Cemetery will be decorated with miniature American Flags placed by local Boy Scouts, Girl Scouts of the New Bern Enchanting Waters and the Young Marines. The flag decorating event will be held on Saturday, May 27th at 9:00 AM, the public is invited to attend. Following a brief program all present are welcome to assist placing the flag next to the grave sites. Additionally, on Memorial Day, the pavement boundaries will be decorated with 35 veteran and community wreaths and embellished with American, State and Military flags all snapping and cracking in the wind.
The keynote speaker for Memorial Day 2017 is Rev. Doc, Avery C. Brown, United States Navy, Chaplain, (Ret.) additionally; we will be honored by several City and County dignitaries. Featured in this year's ceremony will be a Color Guard and Ceremonial Rifle Detail from Cherry Point Air Station, the Havelock Community Band playing patriotic music, Mr. Sam Lewis singing our National Anthem, Rev. Malcom Roberts III, Chaplain, Untied States Army, (Ret.) who will deliver the Invocation and Benediction, Rev. Steve Simpson performing Amazing Grace on bagpipe and Ms' Altesina Kutulewski and Barbra Chance together sounding Taps with echo.
Water, event programs and seating assistance will be available at the main enterance. While 400 chairs are available, it is advisable to bring personal folding chairs and sun/rain protection. Should the Memorial Day Celebration be cancelled due to severe weather a public service announcement will be broadcast on WNOS 107.5FM at 10:00am.
The Memorial Day Ceremony is organized and sponsored by the Craven County Veterans' Council, which is composed of representatives of 11 Craven County Veteran organizations, plus their associates, and the New Bern National Cemetery staff.
Please plan to join us honoring Veterans' Day. For further information call the CCVC Message Center at (252) 296-1381 or (252) 636-5543 or check out the Craven County Veterans Council's website.
Submitted by: Dobert Owsley, Chairman, Craven County Veterans Council