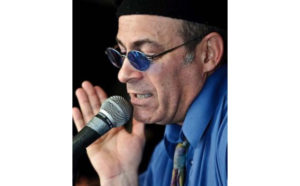 The Wilmington Blues artist Arthur "LoveWhip" Shuey will bring his music to Trent River Coffee Company in New Bern, on Friday, May 26.  Accompanied by Simon Spalding and other local musicians, Arthur Shuey will sing, play mouth harp, and share his lifelong love and knowledge of Blues music.
"LoveWhip" is the founder of the Blues Society of the Lower Cape Fear and Beat Magazine. He has taught blues history, songwriting and harmonica to over 2,000 people, ranging in age from 4 to 84 in workshops, seminars, arts camps and private lessons. He has been featured in eight films and numerous television documentaries and incorporated five blues societies outside of the Cape Fear region. He has performed with Mojo Collins, Saffire, Bo Diddley, Chuck Berry, Koko Taylor, the James Cotton Band, Drink Small, Big Boy Henry, Walter "Lightnin' Bug" Rhodes, Johnny Shines, Guitar Gabe, "Slippery Jake" Horton, Mark Hibbs, Truth, Blue Rhythm Club, the HighRollers and Makin' Whoopie and is currently bringing the best in authentic Louisiana music to southeastern North Carolina with "Chantez les bas".
Arthur Shuey will be accompanied by Simon Spalding on fiddle, cumbus, and bass on some of his songs, as well as by Ed Ruiz and other local players.
Arthur Shuey will perform at Trent River Coffee Company, 208 Craven St., New Bern, on Friday May 26.  Tickets are $10, available at the door.  The doors open at 6:00 pm, and the show starts at 7:00.  For reservations or more information, call 252-514-2030.  For more on Arthur Shuey, check him out at Reverbnation.com/ArthurShuey.
Submitted by: Simon Spalding