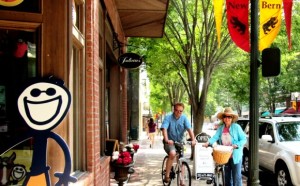 1st – 31st: Tryon Civitan's Personal Hygiene Drive for RCS. Donation drop off location is the UPS Store of New Bern. Call 252-633-2218.
19th: The Black Holocaust in America, 7:00pm at the North Carolina History Center. Call 252-639-3500.
20th: Lunch and Learn: Political Intrigue in the Kitchen, 12:00pm at the North Carolina History Center. Call 252-639-3500.
20th: Savor the Taste of Historic Dishes with Chef Bill Smith, 6:00pm – 9:00pm at Tryon Palace Candlelight Dinner. Call 252-639-3500.
20th: Shari Kane and Dave Steele in Concert, doors open at 6:30pm, show starts at 7:30pm at the Trent River Coffee Company. Presented by Down East FolkArts Society. Call 252-646-4657.
20th – 21st: Young Frankenstein, 7:30pm at the New Bern Civic Theatre. Call 252-633-0567.
21st: 4th Annual Chapter 21 Federal Managers Association 5K Fun Run/1 Mile Walk, 7:00am in front of Wells Wayside Furniture in Havelock.
21st: Twin Rivers YMCA Super 5K – Run Walk, Kids Dash and Dog Jog, 8:00am. Presented by CarolinaEast Health System. Call 252-638-8799.
21st: St. Paul Catholic School Annual Golf Tournament, 9:00am, Fairfield Harbour Pointe Golf Club, 1105 Barkentine Dr. Call 724-244-2211.
21st: AlzNC Craven County Walk – New Bern, registration begins at 8:30am, walk starts at 10:00am at Union Point Park.  Call 252-638-3185 x 3011.
21st: Landscape Renovation "What to Cut, Dig, and Keep, 10:00am – 12:00pm, Free Horticultural Workshop presented by the Craven County Cooperative Extension and Master Gardener Volunteers, 300 Industrial Dr. Call 252-633-1477.
21st: 22nd Annual Skin Cancer Screening offered by CarolinaEast Health System, 10am – 12pm in the Oncology Center. Call 252-633-8154.
21st: 10 Year Anniversary 5K Run, Fun Run, Flapjack Breakfast, Tennis Mixer and Golf Tournament presented by The Epiphany School of Global Studies. at the Taberna Golf and Country Club.
21st: Leslie Tall Manning "Upside Down in a Laura Ingalls Town" Book Signing, 10:00am – 1:00pm at Kitchen on the Trent, 2500 Trent Rd. Call 252-626-6309.
21st: 2016 RDC Triangle Antique & Classic Boat Show at the Galley Stores Marina. Call 252-514-8525.
21st: At the Gallery: Rodgers and Hart, 7pm, Bank of the Arts. Call 252-638-2577
22nd: Paddling for Pennies benefiting Wounded Warrior Kimmy Fix. Call 919-921-1348.
22nd: The Bears in "Concert in the Park", 4:00pm at River Bend Park. Call 678-205-7309.
22nd: Craven Community Concert Band Presents: Concert in the Park, 6:30pm at Union Point Park. Call 252-638-2811.
There also all kinds of fun activities to include something to do for all ages!
Visit the local Art galleries and shops to admire the vast array of art on display by local Artists.
Check out Amusements to learn about fun and games. Some examples are miniature golf, roller skating, playing bingo, bowling, and much more!
Relieve some stress by working out at the local Fitness Centers.
Learn about New Bern's 305 years of History by taking a professionally guided or self-tours and visit the many historical landmarks.
Spend some time at the New Bern – Craven County Library, read a book, use the computer, and better yet, take some FREE computer classes!
Get some fresh air by taking a walk in the park. Your kids will have a blast at the local playgrounds and water park. Your dog can play with others in the "dog park" (you need to register for access). Thanks to the City of New Bern's Parks and Recreation and Craven County Recreation and Parks there are over 20 parks, a community resource center, and two recreation centers in our community. They also organize numerous events and classes throughout the year.
Enjoy a Night on the Town by attending a live performance, singing Karaoke or dancing, or watching a movie at the box office.
Get back to nature by visiting Outdoor Recreation and see the hotspots for biking, boating, camping, fishing, golfing, hiking, hunting, tennis, scuba diving, etc.
Enjoy a stroll through the New Bern Farmer's Market. The locals gather here on the weekends to shop for arts and crafts, food, and many other unique gifts. They even have live bands throughout the year.
What are you doing this weekend?
Tell us what you think sending us an email. Visit New Bern Now's Facebook page or sign up for the latest updates by submitting your email address in the right margin on New Bern Now's website.
Wendy Card