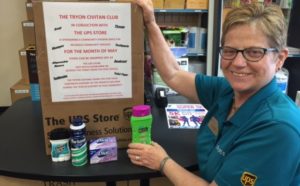 Laura Johnson caught up with Pat Drake of the Tryon Civitan Club to talk about their upcoming Personal Hygiene Drive. The radio interview is aired on New Bern's TalkRadio Station WNOS 107.5FM and 1450AM. You can listen to it on New Bern Now's podcast station here:

The Tryon Civitan Club, in conjunction with The UPS Store, is sponsoring a Community Hygiene Drive to benefit Religious Community Services during the month of May.
Personal hygiene items like soap, shampoo, toothbrushes, toothpaste, tissues, deodorant, disposable razors, toilet paper, etc. can be dropped off at The UPS Store, 1822 South Glenburnie Rd. (across from the Post Office) between 8:00 am and 6:00 pm Monday through Friday and from 8:00 am to 4:00 pm on Saturdays.
The Tryon Civitans thank you for your continued support of the project we have during the year in support of our community.
For more information, visit the Tryon Civitan's website and Facebook page or call Loriann Harker, Tryon Civitan President at 252-633-2218.
Tell us what you think by sending us an email or call us at 252-638-6858.
Visit New Bern Now's Facebook page or sign up for the latest updates by submitting your email address in the right margin on New Bern Now's website.
Wendy Card