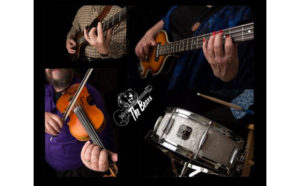 The Bears will play a "Concert in the Park" at River Bend Park, Sunday afternoon May 22.  The Bears' "way back machine" takes you on a roller-coaster ride through the best songs of the last sixty years, featuring Classic Rock, Surf Music, British Invasion, and more, served up with humor, hot licks, and a great sense of fun.
Who are The Bears?
– Steve Latimer is "Baby Bear", the band's youngest member. Steve sings and plays guitar.
– Janet Montero is "Mama Bear": she sings and plays bass.
– Pat Engeman, "Yogi Bear" is the drummer, as well as a singer.
– Simon Spalding is "California Bear": he plays bass, fiddle, and guitar.
The concert is free to the public, and will take place in River Bend Park, on Shoreline Drive in River Bend.  The music starts at 4pm and continues until 5:30pm.
For more information or for band bookings, contact Pat Engeman at 678-205-7309 or visit The Bears website.
Submitted by: Simon Spalding