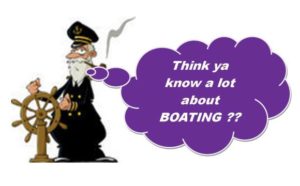 If you're an inexperienced boater, don't go out on our challenging waters without some of the basics…..even if you're heard them before.  Saturday, June 11th, the Coast Guard Auxiliary in this area offers a basic one day course on everything you need to know to operate a boat on North Carolina waterways. The session is taught at The University of Mount Olive Saturday, from 8:30am to 4:30pm. The class, taught by certified USCG Auxiliary instructors provides the important information required by all persons between 16 and 26 to legally operate a boat in NC with 10 or more horsepower.
About Boating Safely will introduce you to all types of boats, boating law, right-of-way rules, safety equipment, loading, fueling, docking, knots, weather, aids to navigation, using charts, anchors, potential boating problems and what to do, trailering and protecting your boat or PWC. Upon completion of the course, you'll receive a certificate and a wallet size permit which may result in a lower boat insurance premium as well as satisfying NC regulations if you are stopped by any Coast Guard, Wildlife or law enforcement agency.
The cost is $35, which covers the teaching materials, wallet card and certificate and $5 for each additional family member/guest when using the same textbook. You will also have the opportunity to bring your trailered boat to Mount Olive for a free vessel inspection.
For more information and required pre-registration or information about other USCG Auxiliary courses, contact Bob Manning, Public Education Officer at 252-638-5588.
Submitted by: Bob Manning, New Bern Area US Coast Guard Auxiliary