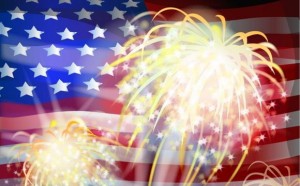 The day will kick off with the first ever New Bern Parks and Recreation and Hope for the Warrior's "Run for the Warriors 5K and one mile fun walk" at 7:30am at Union Point Park. Support the wounded warriors by participating. Call New Bern Parks and Recreation at 252-639-2907 for more information or register online.
The Glorious Fourth starts at 9:00am with the Tryon Palace's Fife & Drum performance and reading of the Declaration of Independence at 11 am. Special Activities begin at 9:00am – 3:00pm with free admission to the gardens from 9:00am – 7:00pm. Gardens and special 4th of July activities are free to the public.  Interior tours of the buildings require a purchase of a ticket.
In 1783, North Carolina Governor Alexander Martin became the first American Governor to issue a State order for celebrating the 4th of July.
Step back in time and attend one of our earliest celebrations of the glorious Fourth! On the Governor's Palace South Lawn, join a gathering of the local militia in celebration of the end of the Revolutionary War and talk to the soldiers about their equipment and camp life.
Throughout the day, the militia will perform firing demonstrations of their muskets and a light cannon.  From 9:00am – 3:00pm on the Palace grounds, enjoy 18th-century music and country dancing, games of townball, and historic kids crafts which will include making a historic toy, signing their own copy of the Declaration of Independence with a quill pen, and 18th-century costume dress-up. In the courtyard behind the Palace Kitchen Office, visit patriot Richard Cogdell's Ordinary (public house) for some lemonade, entertainment, and gossip.
At 11:00am in the Palace courtyard, watch a Fife & Drum Corps parade and attend a public gathering as Governor Martin welcomes John Penn, one of North Carolina's signers of the Declaration of Independence, to read the Declaration for all.  As you spend the day immersed in the past, you can also encounter a variety of other historical characters and learn what the end of the revolution and our country's newfound independence meant to each of them.  Bring your picnic lunch and start your 4th of July celebration with Tryon Palace!
There will be all kinds of things to do at Lawson Creek Park! Activities start at 3pm and run until 9pm. Some of the highlights are bounce houses, misting tents, vendors, and much more!
The Declaration of Independence will be read at 7pm followed by a Patriotic Display of Fireworks around 9pm.
Join the Lookout Lady for Fireworks Cruise in New Bern on the 4th of July Independence Day: 7:00pm-9:30pm, join the Lookout Lady for New Bern's most spectacular water-view of the 4th of July Fireworks. Enjoy a fully narrated Sunset Cruise, ending with the beautiful fireworks display from Lawson Creek Park as nighttime nears. Sit back and enjoy the show Lookout Lady style. Call now for reservations, 252-728-7827 or visit: www.tournewbern.com.
Parking is available inside Lawson Creek Park, but also at Temple Baptist Church (1500 Kingdom Way) and Dayspring Ministries (their PARKING lot is at the corner of Broad Street and First Street, the church sits at the corner of Pollock & First).
Shuttle service to and from Lawson Creek Park will also be available from both churches. Shuttle service will begin at 3:30 p.m. and end at approximately 10 p.m.
New Bern Parks and Recreation welcomes coolers and service animals, but prohibit alcohol, glass containers, fireworks and all other pets. We ask that bicyclists refrain from riding while in the park.
The above information was provided by: Colleen Roberts, Public Information Officer for the City of New Bern; Nancy Donahue, Administrative Assistant, New Bern Parks and Recreation; Trish Ashburn, Marketing and Communications Manager for Tryon Palace, and Christie Seiler, Lookout Lady/Crystal Coast Lady.
Tell us what you're doing on the 4th of July in New Bernby commenting below or sending an email. Don't forget to visit us on New Bern Now's Facebook Page.
Wendy Card