When I heard there was a Japanese tattooist performing the rare form of Traditional Tebori Style Tattooing at Lucky Street Tattoo in New Bern this week, I had to meet him!
I had the pleasure of meeting Beth Fairchild, owner and custom tattooist at Lucky Street Tattoo. She introduced me to featured artist Takashi Matusba; her daughter, Leigh; and their manager and piercist, Doug Boucher. I missed meeting Beth's husband Marc, but I'm sure I will in the near future.
Takashi Matsuba is from Nagoya, Japan, and has a studio in Brooklyn, NY. He is one of a very small number of tattooists in the United States who has mastered the rare art of "Traditional Tebori Style Tattooing". It's also known as "hand poking".
Since this is such a rare form of the tattooing, normally only found in the Orient, this is a special opportunity for locals to get a "Tebori Style" tattoo. It would definitely be a conversation piece and a story to tell for years to come. Takashi Matsuba is in New Bern at the Lucky Street Tattoo and Piercing Studio for the next week. Don't wait, make your appointment today!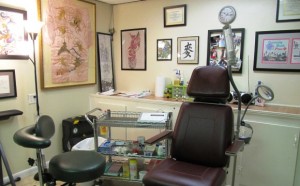 Beth gave me the grand tour of her clean, comfortable, and charming studio. I was very impressed with the cleanliness as they use an autoclave and share "spore test" results with anyone who walks in the door.
They pride themselves on the quality of their artwork. All piercing materials are made of titanium and are implant grade to ensure their clients don't get infections from poor quality jewelry that is easily rejected by the body.
Being in the Navy, I've accompanied many Sailors to a lot of tattoo parlors, but I've never been in one that was so clean and aesthetically pleasing to the eye. Beth and Doug were very clear to say they refuse clients if they suspect them of being under the influence of alcohol or drugs.
They take their business very serious and they care about their customers. They want people to be sure of what tattoo or piercing they truly want; and not to have one done on a whim.
Beth also performs areola restoration for cancer patients and provides cosmetic tattooing (permanent makeup).
I highly recommend Lucky Street Tattoo for people who want to get a tattoo, body piercing, cosmetic tattooing, and/or areola restoration.
Did I mention, they also have a motorcycle and auto restoration business, Mid Life Cycles, behind their studio?
Visit Lucky Street Tattoo at 1201-A Hwy 70 East, New Bern, call them at 252-636-0333, or check out their website and Facebook page!
It was truly a pleasure meeting Beth, Doug, Leigh, and Takashi!
Tell us what you think by commenting below or sending an email. Don't forget to visit New Bern Now's Facebook page.
Wendy Card