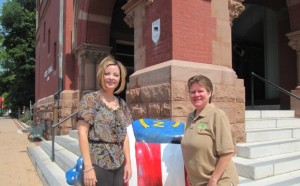 Listen to our interview with Colleen Roberts, also airing on WNOS 105.9FM and 1450AM:
"Radio Laura" Johnson and I had the pleasure of sitting down with Colleen Roberts, the City of New Bern's Public Information Officer.
Summer is here and Colleen was excited to tell us about the latest happenings in New Bern!
The City of New Bern is gearing up for this year's Fourth of July. Celebrate Independence Day with fun-filled activities for kids of all ages!
July 4, 2012, will kick off with the first ever New Bern Parks and Recreation and Hope for the Warrior's "Run for the Warriors 5K and one mile fun walk" at 7:30am at Union Point Park. Support the wounded warriors by participating. Call New Bern Parks and Recreation at 252-639-2907 for more information or register online.
There will be all kinds of things to do at Lawson Creek Park! Activities start at 3pm and run until 9pm. Some of the highlights are bounce houses, misting tents, vendors, and much more! The Declaration of Independence will be read at 7pm followed by the fireworks display around 9pm.
Parking is available inside Lawson Creek Park, but also at Temple Baptist Church (1500 Kingdom Way) and Dayspring Ministries (their PARKING lot is at the corner of Broad Street and First Street, the church sits at the corner of Pollock & First).
We will also offer shuttle service to and from Lawson Creek Park from both churches. Shuttle service will begin at 3:30 p.m. and end at approximately 10 p.m.
Great things are happening with New Bern Parks and Recreation this summer! They're offering seven different types of summer camps for kids. From basketball, artists, cheerleaders, swimmers, golfing, sports camp and more!
Visit the New Bern Aquatics Center and beat the heat in the pool or check out the George Street Spray Ground. Both are now open to the public.
Enjoy a round of Frisbee golf as it's become a very popular sport at the Glenburnie Park's Frisbee golf course.
The City of New Bern officially kicked off their "100 Days of Summer" with a wonderful concert by Craven Community Concert Band at Union Point Park.
Colleen believes, "There's something to do for everyone" in New Bern, North Carolina!
She was also happy to announce that the City of New Bern has taken the leap into the Social Media age. Stay up to date on important city information and happenings by visiting their website, follow them on Twitter, and check out their Facebook page. Don't forget to click the "Like" button!
You can also watch the City of New Bern Alderman meetings on Suddenlink Channel 3 in New Bern or on Time Warner Cable, Channel 10, on Sundays at 8pm in Carteret County.
Special thanks to Colleen Roberts for taking the time to tell us what's happening with the City of New Bern. Thank you Laura Johnson for volunteering your time for the interview, great job!
Stay tuned for an upcoming interview on how the City is addressing and resolving parking problems!
Tell us what you think by commenting below or sending an email. Don't forget to visit us on New Bern Now's Facebook Page.
Wendy Card