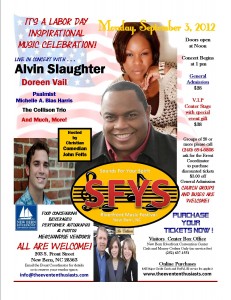 This Labor Day, Monday, September 3, 2012, The New Bern Riverfront Convention Center will open its doors at 12:00 noon, for the 2012 Sounds for Your Spirit (SFYS) Riverfront Music Festival. This is the first that the New Bern Riverfront Convention Center has hosted an internationally acclaimed music artist with the power and fan base of Alvin Slaughter. With nine recorded inspirational CD's, numerous appearances and host on Trinity Broadcast Network and having been nominated several times for Dove and Stellar Awards (the highest recognized awards in inspirational music), his fan base has expanded internationally.
The Riverfront Convention Center is located at 203 South Front Street, New Bern, NC 28562. The concert will begin at 1:00pm.
This event is inspired by the US Labor Department's description of the historic traditions of celebrating Labor Day, with events which exhibit to the public "the strength and spirit of their work" in the community that they lived. Historically a festival was often the means for recreation and amusement for community workers and their families. Keeping in spirit with the tradition of the Labor Day holiday and adding inspirational flavor, the Sounds For Your Spirit Riverfront Music Festival was envisioned and created. The vision of this music festival is to simply uplift, and inspire area residents with inspirational sounds, during this with this one day musical extravaganza, which, this year, features Inspirational, Christian and Gospel Music Artists and Entertainers of International, Domestic and Local fame.
This invitation is extended to all area church congregations, community and social organizations, East Carolinian family , friends and visitors are welcome to join and enjoy this great event. Alvin Slaughter will share the soundstage with his good friend Stellar Award nominee and National Recording Artist Doreen Vail (who also has appeared on TBN), Michelle A. Bias Harris, renown Musical Psalmist from the Washington, DC Area, The Collison Trio of Jacksonville, NC. Other national and local music talents, include Southern Gospel Trio Heart 2 Heart and Inspirational Saxophonist and Recording Artist Tony Robertson are also scheduled to perform. The show will be hosted by Christian Comedian John Felts. Performer photo and autograph sessions will be held.
One local community organization that leads by example in Labor and Service will be presented with the 2012 SYFS Spirit Award for Labor and Service. This award is accompanied by a monetary donation to assist with the continued support their ministry of labor and service to area citizens. We have received nominations for The Religious Community Services – New Bern, who offers a wide range of support to the residents East Carolina residing in Craven, Pamlico and Jones Counties. We are open to nominations for other agencies.
We invite your organization, family and friends to join and enjoy great inspirational music celebration. Please direct organization group leader to contact the SYFS Event Coordinator to reserve group tickets for members or guests of your organization who would like to attend. A discount of $3.00 off will be applied to the General Admission ticket at the time of purchase.
Group tickets must be purchased in units of 20 or more in a single transaction. Payable by: Organization or Cashier's Check, Credit Card or Money Order.
One complimentary VIP/Reserved/Center Stage ticket (Ticket Value $38.00) will be reserved in your name, as Group Leader, with the group purchase.
Buses and vans are welcome. Parking is free.
Please join us in this Inspirational Concert in Labor and Service!
For more information contact Sis. Tracy M. Simpson, Coordinator The Event Enthusiasts! Exclusive Agent for the 2012 Sounds For Your Spirit Riverfront Music Festival, 9201 Edgeworth Drive, P.O. Box 6312, Capitol Heights, MD 20791, Phone: 240-694-6808.
Submitted by: Tracy Simpson, Event Coordinator