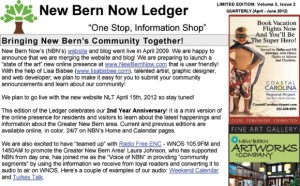 Local information has been streaming into New Bern Now's inbox to be included in the upcoming 20 page July Ledger quarterly publication!
We really appreciate everyone's input and are working hard to make sure the information will be published in the next edition.
Take advantage of a simple way to spread the word about your non-profits efforts at NO charge!
The deadline for submissions and advertisers was June 18th and we extended it to June 22nd in case you just found out about New Bern Now.
Please know that the large volume of information that we are currently receiving will be published on our website and the hardcopy/online version of the Ledger. You don't have to wait for the quarterly Ledger to be published as we do our best to update New Bern Now's website on a daily basis.
Don't wait for the quarterly Ledger!
By sending us your information (and photos) anytime, you can reach out our 40,000+ readers (almost 400,000 hits) on a monthly basis. That's close to ½ of New Bern's population!
We look forward to reading what's happening in your neighborhood, civic organization, or other entity.
Tell us what you think by commenting below or sending us an email. Don't forget to "Like" us on New Bern Now's Facebook page.
Wendy Card