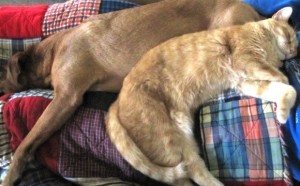 When you hear a news report or read something in the paper, you can be sure that this is just the tip of the iceberg. There is always a story behind the story. A situation makes the paper only when it gets out of control or something happens.
A couple of weeks ago, a local Television Station reported that a man allegedly killed five cats with a shovel in a fit of rage. These cats were living in his home and on his property and belonged, as much as a feral cat belongs to anyone, to his daughter. She and his two granddaughters loved the cats and tried their best to take care of them. Unfortunately, there is little or no money available; and no funds for spay/neuter. What started out as a few, quickly grew into 30. Some of these cats are strictly feral and do not want to be handled, but some of them are affectionate and love to be cuddled. Their lives are centered on survival just like their caregivers.
When Lisa Lee of Colonial Capital Humane Society heard this story, it haunted her.  What can be done? Of course, everything takes a lot of money. Money that this family did not have and money that the individual rescue groups did not have. But maybe two together could make a difference. She called me at Pals for Paws and asked if we would team up with CCHS to get these cats spay/neutered. We quickly agreed and the logistics began. First, the young woman would have to agree to having her cats neutered. She was not agreeable to giving any of them up – although she eventually agreed to let a Momma cat and a litter of kittens go. The rest of them she wanted back.  Not all of the cats were friendly so some of them would have to be trapped or captured while a precious few came willingly. The big day arrived and on June 14th, Dr. Knowles at Neuse Veterinary Clinic spay/neutered 11 male cats and 10 females, including a couple that were already pregnant. A few cats could not be captured and will need to be trapped. They will also be taken care of when caught. These cats will gently be released back into their environment as they heal and recover from the surgery. If nothing had been done, by this time next year there could have been 50 cats.
This is not a project that any of us could have done by ourselves. But by teaming up and combining our resources, CCHS and Pals for Paws have made a big difference.  Right at the time this all came to light, Pals received a wonderful donation from Dr. Andrew Mylander that enabled us to participate. It is through such generosity that we are able to continue our Affordable Spay/Neuter Program. So many kind neighbors have contributed to our cause. In the first five months of 2012, we have spay/neutered 99 dogs and 182 cats plus these 20 plus cats. We are making a difference one animal at a time.
In case you are wondering, as I write this article, the father is still incarcerated and is awaiting further evaluation. No one posted bail.
Submitted by: Bonnie Compton, President of Pals for Paws, P.O. Box 14740, New Bern, NC 28561