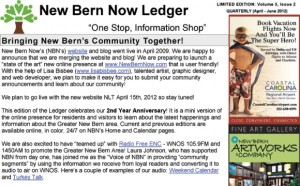 It's almost time for the next edition of New Bern Now's Ledger Publication (July – Sept 2012)! Please send us your announcements and event information to be included in the upcoming 11th Edition by June 18th, 2012.
If you've never seen The Ledger, it's a 20 page mini version of New Bern Now.com. It was created to promote local businesses/non-profits and to provide an area guide for residents and visitors to learn about the latest happenings and information throughout the Greater New Bern area!
Hardcopies of the quarterly publication are distributed at the Coastal Carolina Regional Airport and numerous businesses and non-profits within the Greater New Bern area.
The Ledger is also available 24/7 online in color including hyperlinks to websites. You can find the previous editions of the Ledger on the top navigation bar of New Bern Now's website.
It doesn't cost anything to publish your local events and information. This is a free service to the public because local businesses sponsor this popular publication. Advertisements cover the cost of printing. Reach thousands of local and national prospective customers by becoming an advertiser for only $100 per quarter.
In May 2012, New Bern Now received over 40,550 visitors, 122,070 page views, and received 399,953 hits…that's a record high in one month compared to the past 3 years! I contribute the enormous increase in visitors to members of the Greater New Bern area for sending local information to us to be published.
We really appreciate everyone's support by sending us the latest community happenings and we look forward to hearing from you!
Please send us your information via email, preferably in the email's text or in a Word Document. You can also use our new automated form by clicking "Submit your Content" in the top right corner of the website.
Tell us what you think about the Ledger by commenting below or sending us an email. You can also visit New Bern Now's Facebook page.
Thank you!
Wendy Card