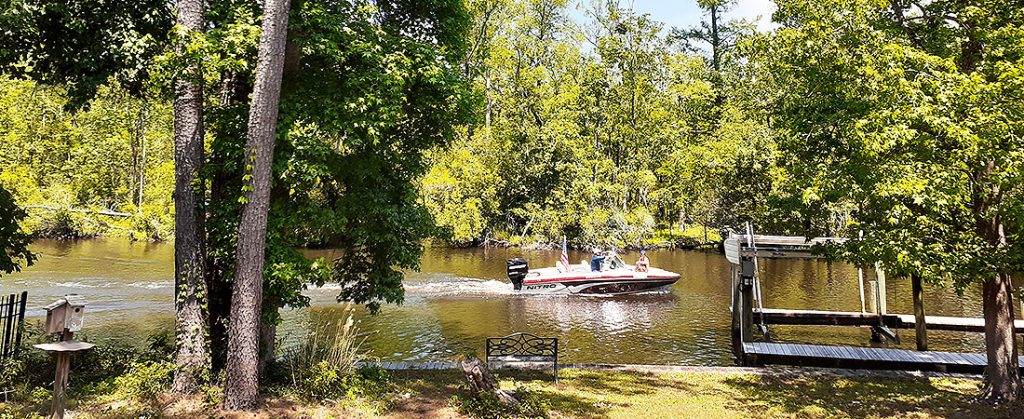 Officer Ryan Biggerstaff with the Law Enforcement Division of NC Wildlife Resources Commission joined New Bern Now to promote "On the Road, On the Water, Don't Drink and Drive" campaign.
Biggerstaff provided NC Wildlife's Vessel Operation Fact Sheet:
-The annual campaign is conducted by local and state law enforcement agencies, supported by public safety advocates including Mothers Against Drunk Driving.
-Law Enforcement Officers will be promoting public awareness to deter impaired vehicle and vessel operations. Each year alcohol and drugs play a major role in boating and vehicle related deaths.
-Awareness and enforcement efforts are centered on some of the busiest summer holiday weekends:
May 26-29  On The Road, On The Water
July 1-3  Operation Dry Water (national campaign)
Sept. 1-4  On The Road, On The Water
-Most boating incidents in North Carolina occur in the months of May, June, and July. Operator inattention is a leading cause of boating incidents.
-During 2022, 148 boating incidents occurred in North Carolina, resulting in 20 deaths. Of those deaths, 16 were not wearing a life jacket.
-Many boating fatalities in 2022 could've been prevented simply by wearing a life jacket. In fact, most drowning victims had a life vest available but weren't wearing it when they entered the water. For more information regarding life jacket safety, visit ncwildlife.org/preserveyourlife.
-N.C. State Law requires anyone born on or after Jan. 1, 1988, who is operating a vessel powered by a 10-horsepower or greater motor to complete an approved boating safety education course, or otherwise be in compliance with the law. For available classes visit ncwildlife.org/boating.
-Remember, any child under the age of 13, onboard a vessel must always wear a USCG approved life jacket, unless the vessel is at anchor, docked or tied to shore.
-The "On the Road, On the Water, Don't Drink and Drive" campaign is led by the N.C. Wildlife Resources Commission, The North Carolina State Highway Patrol, Mothers Against Drunk Driving (MADD), N.C. Alcohol Law Enforcement, local police, and Sheriff's offices.
-More boating safety information can be found at ncwildlife.org/boating.
Watch NBN's interview here:
By Wendy Card, co-editor, Send an email with questions or comments.