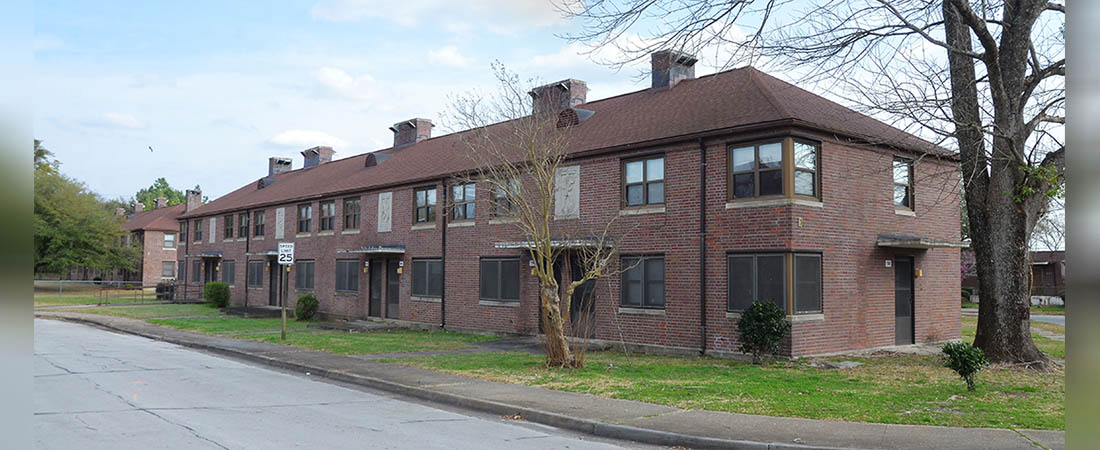 Plans to rebuild New Bern's Trent Court appear to be moving forward again more than four years after Hurricane Florence flooded many of the apartment complex's buildings.
The New Bern Housing Authority is considering a proposed memorandum of agreement (MOA) with Laurel Street, a Charlotte-based firm that develops mixed-income communities for working families and seniors throughout the East Coast.
Under the proposed plan, Trent Court's existing units would be torn down, with phase 1 focusing on the 108 flood-damaged units and phase 2 on the remaining occupied buildings. All new apartments would then be built back on the property.
During the Housing Authority Board of Directors' April 17 meeting, Lee Cochran, senior vice president for development with Laurel Street, gave an overview of the kind of development options the company could offer for Trent Court.
Cochran said Laurel Street's housing developments serve residents who earn 30% of the area median income (AMI) up to those who can pay market value for new homes. 
Laurel Street offers multiple financing options, he said, including low-income housing tax credit developments up to market rate housing.
"They are still mixed-income developments but they use private equity so we can serve a broader range," Cochran explained. 
Laurel Street was the developer for Indigo Ridge Senior Apartments in New Bern and has worked on mixed-income communities such as Park Terrace in High Point, Brenner Crossing in Salisbury, Renaissance in Charlotte, and Highland Grove in Richmond.
Cochran said Laurel Street also has experience with several developments that are in flood plains, such as Burrell Square and South Meadows in Rome, Ga. and Marrerro Commons in New Orleans, La.
Cochran said that if the New Bern Housing Authority moved forward with the MOA it would be followed by a more detailed, legally binding development agreement.  
Laurel Street, which would be the development partner, has already chosen other contractors that would work on the project, many of them minority-owned and operated, including: Neighboring Concepts, the largest minority-owned architecture firm in N.C.; Harmon Construction, a Black-owned company, would oversee the construction management; the marketing consultant would be Yellow Duck, a woman-owned business; and Arnall Golden Gregory would handle legal services.
"Diversity is core to who we are and what we believe in," Cochran said.
Rebuilding Trent Court might require the development of some off-site, mixed-income housing that will allow for relocation, Cochran explained, either on parcels that Laurel Street identifies on its own or through city-owned parcels conveyed through a partnership with the New Bern Redevelopment Commission.
Cochran said any redevelopment plan for Trent Court would make public green space a priority.
"Public space is a huge part of the Trent Court redevelopment," Cochran commented. 
According to Cochran, Laurel Street is contemplating financing the multi-phase project through the Rental Assistance Demonstration (RAD) initiative, which can be used for both rehab and new construction. 
"In this case the units that have not been flooded yet that are still occupied, we would anticipate would go through what's called RAD conversion, where the subsidy would be transferred to the new units built either on-site or off-site for Trent Court," he noted.
The next step, Cochran said, is to get feedback from the housing authority on their goals for the project.
"How many replacement units do you want to have? What different income levels do you want to serve? We will work with you depending on what your targets are, what you're trying to accomplish financially," he told the board members.
By Todd Wetherington, co-editor. Send an email with questions or comments.