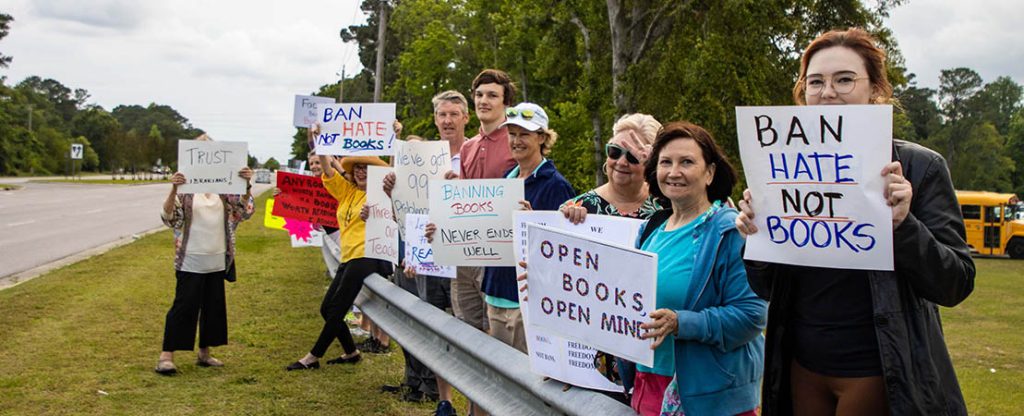 A number of concerned residents have spoken out recently both in favor of and opposed to certain books being pulled from Craven County Schools. New Bern Now reached out to Jennifer Wagner, director of Public Relations, for clarification on the school system's process for handling complaints about books that are either part of the curriculum or available in a school library. 
According to the emailed response from Wagner, if a complaint is made based on a book that is part of the school system's curriculum it is addressed to the teacher of the student in that class by the parent. The teacher will then make accommodations and provide another piece of text for that student for the assignment.
A complaint about a library book will be addressed with the school library media coordinator first. If the parent/guardian is not satisfied with the solution, the concern can then be addressed with the School Media Technology Advisory Committee (MTAC). The School MTAC will then make a decision based on the concern. If the parent/guardian is not in agreement with the decision, the concern then is addressed with the District MTAC.
According to Wagner, no books are currently under review by the School MTAC nor the District MTAC.
Wagner said since 2020 only one title, "This Book is Gay" by Juno Dawson, was removed from school library shelves. She said the book's content was deemed inappropriate for the recommended age of students suggested by the vendor after it was reviewed by media coordinators and during the continuation of the selection process of new books for school media collections. The book was deleted from the school search database and physically from the school.
Although there have been suggestions made to the contrary during the public comment section of recent Craven County Board of Education meetings, Wagner said the board is not currently reviewing any list of books to ban certain titles from school libraries. 
Concerns raised about certain books available to Craven County Schools students stretch back several months. 
During the board's March 16 meeting, Michelle Epps, a retired educator, took issue with "This Book Is Gay" as well as "It Feels Good To Be Yourself: A Book About Gender Identity," by Theresa Thorn.
"This book is just one of many, many wildly inappropriate titles that have passed all these levels of scrutiny," she commented.
Board member Naomi Clark pointed out that the book is not in any school library but is available through the Department of Public Instruction digital library. 
"My point is that this book just is not in our system," Clark said. 
Board member Jennifer Dacey said she shared Epps' concerns. Dacey said she had looked at many of the books in the school system's inventory and believed some of the material met the legal definition of obscenity under state statute.
"This is an issue I think the board really needs to pay close attention to and do some quick work on because like a lot of school systems we have delegated the authority to make these decisions to staff…If I were to hand these materials to a child outside of one of our schools, I could rightfully be prosecuted for doing so," Dacey claimed.
At the April 20 board of education meeting, Glenn Fink told the board there are "citizens groups" who are actively looking at certain books and will "present opportunities for a more detailed review for decisions about whether they should be kept or not."
Another speaker, Mack Epps, commented, "These books you're laying on these young adult minds, it's just perversion. Your mission is to find the pervert who let this into our schools."
Those assertions were met with an equally strong response from parents and other citizens opposed to books being removed from libraries and classrooms. 
During public comments at the board's May 18 meeting, Susan Cook said the school system has a responsibility to present young readers with well-chosen and diverse materials. 
"We live in a multicultural, pluralistic society composed of many individual and wonderful people," she said. "Reading is a great way to help bridge our differences and create an understanding of people that are unlike us."
Cook acknowledged that individuals have different perspectives on what children should read.  
"Parents do have the right I believe to decide what their own children read, but they do not have the right to decide what other children read," she commented.
Barbara Sampson spoke out on recent criticism of texts that present a fresh perspective on historical events such as slavery. 
"We have to know our past so that we can deal with the future. We're not responsible for what our forefathers or foremothers did, what we are responsible for is what we do in the future," Sampson said. 
Dr. Christina Belcher said she found solace in books while growing up in the 1980s.
"I didn't find people like me represented in popular culture. If it wasn't for books, if it wasn't for the representation that I found reading some of these books, I probably wouldn't be where I am today," she told the board. 
Responding to the comments, Dacey said, "No one is talking about banning books."
Board member Kelli Muse and Scott Murphy echoed Dacey's remarks.
"I believe that we have a process in place and I believe we intend to follow that process," Murphy said. "As long as we do that, I think it will be alright."
By Todd Wetherington, co-editor. Send an email with questions or comments.