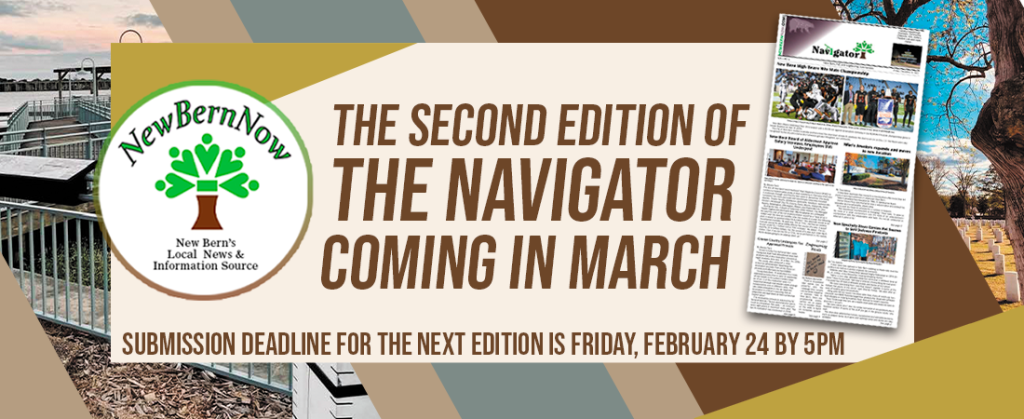 Last week New Bern Now staffed a small, talented and experienced newsroom. We are working on the second edition of The Navigator print and digital newspaper to hit the streets in early March.
The purpose is to provide a local news so people can make informed decisions, solve problems, and connect with the people, places, events and happenings in New Bern and surrounding communities.
NBN is a digital first, independent news company providing different ways for consumers to receive information — audio, video, and now print.
Become part of the process by sending information to us about nonprofits, businesses, activities, events, education, arts, history, outdoor life, health, sports, human interest stories, etc.
Share significant celebrations like birth, graduation, marriage, retirement and death announcements so we can help spread the word.
We welcome classifieds, opinion pieces, letters to the editor as well as columns from people representing neighborhoods.
Currently, information is published on NewBernNow.com as an article with a photo and/or event listing on the community calendar. The article is then shared on our social media platforms and in the New Bern Bulletin email for subscribers.
Content that is circulated in the newspaper first will be reproduced on our multimedia platforms afterwards.
Together, NBN's multimedia platforms reach 90,000+/- monthly views. We offer a variety of affordable advertising opportunities. Space is limited on a first come, first serve basis. Let us know if you want to advertise and we'll send you the rates. Deadline for artwork is Feb. 22.
Join our efforts by researching, writing, taking pictures/video, and/or become a member of the Podsquad.
Send us your announcements, event information, and articles by 5 p.m. on Feb. 24 to be considered in the second edition.
The Podsquad will be back soon as Living in New Bern and Beyond show has been on hiatus while we launched the first newspaper, reorganized, hired a new team, and conducted business.
Questions or Comments? Send an email or call 252-259-6853.
By Todd Wetherington and Wendy Card, Co-Editors
Related articles: Co-Editors Announce Expansion of Local Independent Newsroom; Letter From the Editor: Navigator Newspaper Hit the Streets Today