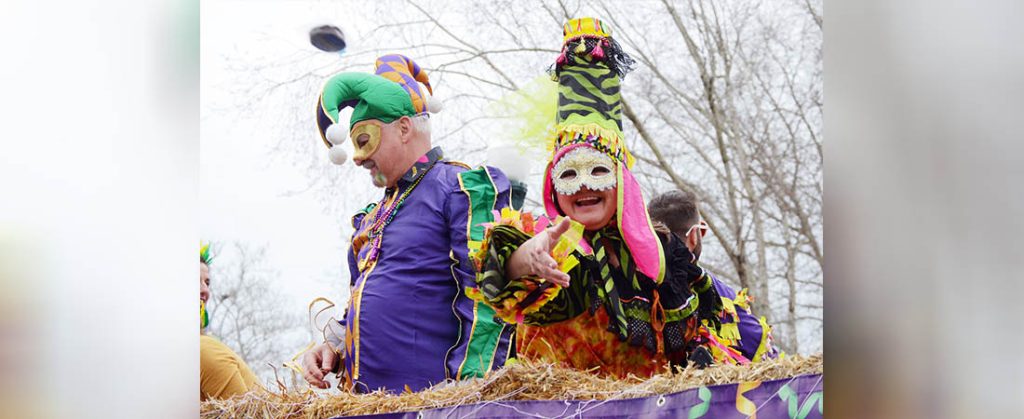 Two of New Bern's biggest parade events will return for another year of celebration this Saturday.
Black History Month parade
The city's 6th annual Black History Month parade will take place on Feb. 18. The lineup will begin at 10 a.m. with the parade kicking off at noon.
The parade will start on Third Avenue near the site of the former Stanley White Recreation Center and travel down Broad Street to George Street before ending at Kafer Park.
In the event of inclement weather, a rain date of Feb. 25 has been set.
During the parade, the 400-600 blocks of Fort Totten Dr., 1300-1600 blocks of Trent Blvd., 400 block of First St., 700-1200 blocks of Broad St., and 400-600 blocks of George St. will be closed to traffic.
According to parade organizer Victor Taylor of Vision Forward, while last year's Black History Month parade focused on Black-owned businesses, this year the theme will be Black History-Before and Now.
Taylor said the parade will include a Black History Month float competition. Prizes will be awarded at the Third Avenue staging area beginning at 10 a.m. First place will be awarded $100, second place $50, and the third-place winner will take home $25.
One of the highlights of this year's parade will be the Hampton Roads-Chesapeake Corvette Club featuring 45 classic cars. Other participants will include the New Bern High School football team, local churches, businesses, radio stations and news outlets.
Food trucks will also be on-site along the parade route.
"We're going to have one at the fire department and the police department and we'll have one food truck at the beginning of the staging area," Taylor said.
The grand marshals for this year's event will be New Bern Mayor Jeffrey Odham and Craven County Commissioner Beatrice Smith.
Taylor said New Bern's Black History Month Parade has grown significantly since it began six years ago.
"It has gotten larger and larger. We now have people participating from Georgia, South Carolina, Virginia and all throughout North Carolina," Taylor noted.
For more information, contact Taylor at 252-617-2537.
New Bern Mardi Gras parade and block party
Also on Feb. 18, New Bern's historic Ghent Neighborhood will host its 7th annual Mardi Gras parade and block party.
The event will run from 11 a.m – 5 p.m., with the parade beginning at 3 p.m. Leading this year's parade will be the 2nd Marine Aircraft Wing Band.
During the event, the 1700-1900 blocks of Spencer Ave. will be closed from 8 a. m. until 6 p.m. The 1400-1900 blocks of Spencer Ave. will be closed to traffic from noon to 3:30 p.m.
The entertainment schedule for this year's event is:
11 a.m. – Bridge Atlantic with Erica Butters
12 p.m. – AM Serenades featuring Alisa Mike
1 p.m. – John Van Dyke and Friends
2 p.m. – Multi-instrumentalist trio Boomerang
3 p.m. – Parade
4 p.m. – The Bonafides
The New Bern Puppets will also be on hand throughout the day.
This year's event will feature the first annual Mardi Gras Mile at 2:15 p.m. The fun race will take place along the parade route in the middle of the Mardi Gras Festival with the crowds cheering on the runners. Participants are asked to wear their best Mardi Gras attire to join the celebration. Prizes will be awarded for first place finishers and those in costume will get a chance to ride in the Mardi Gras parade.
Food and beverages will be provided by Brutopia Brewing Company, A Taste of Philadelphia, All About Churros, Barrow's Pecans, Better Batch Pork Skins, Chandra's Southern Kitchen, Funnels of Love, Jasmine Tasty Thai, Meraki Mediterranean Kafe, Murphytown Seafood & BBQ, Simply Sweets, Snook Dawgs, S.O.B. BBQ, Tanja's Hella Hot Food, and Two Crazy Donuts.
Vendors will include the Coastal Carolina Artists & Crafters Guild, Dawgs Gone Crazy, Happy T Farms, Rising River, Superstar Face Painting and Balloons, and Yellow House handcrafted jewelry and pottery.
A portion of the proceeds from this year's Ghent Neighborhood Mardi Gras will go to Promise Place, the New Bern nonprofit that provides services to individuals who have been victimized by sexual violence and other crimes.
For more information, visit newbernmardigras.com.
By Todd Wetherington, Co-Editor. Question and comments? Send an email.