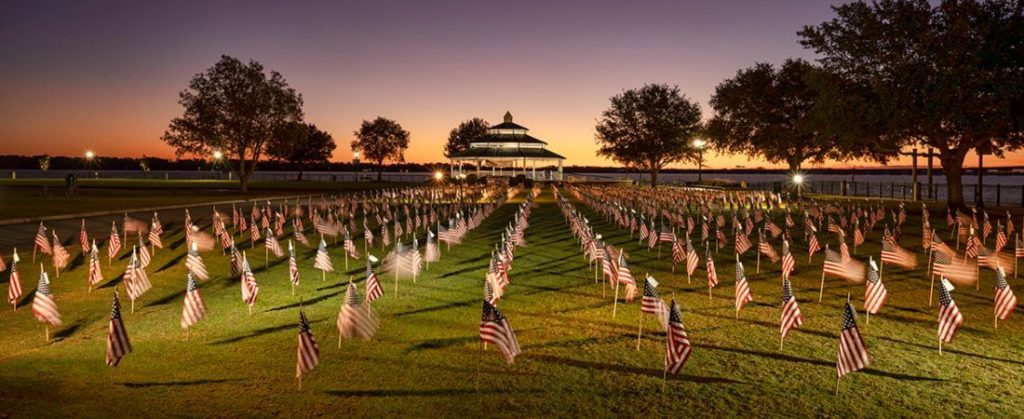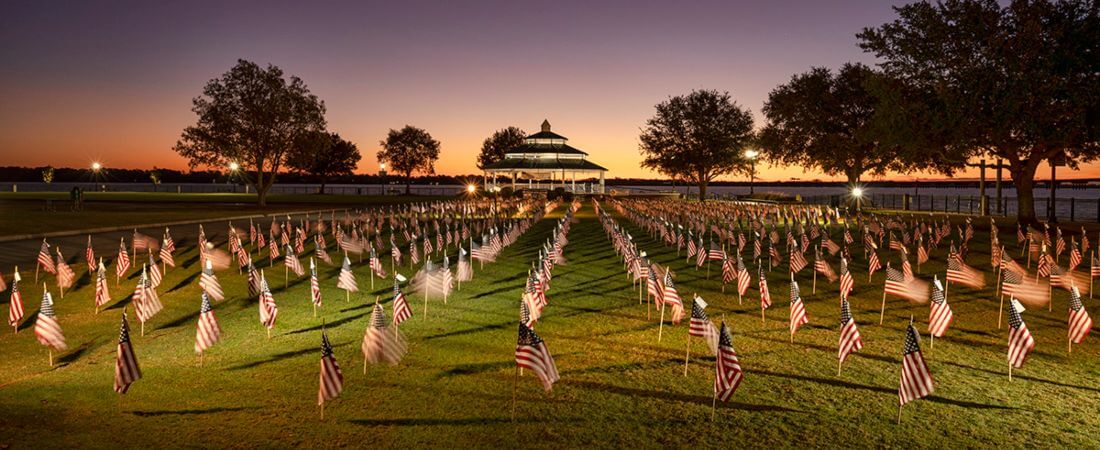 November 6 – 12: Field of Flags
Vietnam Veterans of America, Chapter 886 will proudly honor the service and sacrifice of veterans of our community in a "Field of Flags" to be displayed at the Union Point Park gazebo from November 6 thru 12. The flags on display, which will be illuminated nightly, will bear a tag noting the name and service provided by a loved one, fellow veteran or friend. For more information email Rick Miller or call 302-502-5268.
November 8: Craven County Veterans Day Stand-down
This event is sponsored by NCWorks Center Craven. This is an outreach event for all homeless, disadvantaged military veterans. It is scheduled for Wednesday November 8 from 10 a.m. to 1 p.m. at the New Bern National Guard Armory, 301 South Glenburnie Drive, New Bern. All miliary Veterans, active-duty personnel and family members of Veterans are invited. For more information, email Mr. Tonywanda Jackson or call 252-514-4828 Ext 270.
November 11: Veterans Day Lunch
The Craven County Veterans' Council will host its annual Veterans Day Lunch on November 11 at the Temple Baptist Church located at 1500 Kingdom Way, New Bern, NC. This is a free lunch for all veterans, their spouse, or a primary caregiver. The event is scheduled to commence at 11 a.m. and conclude at 1 p.m. Please bring proof of service: a North Carolina Driver's License with veteran notation, DD-214, VVA Medical Card, or a membership card to a Craven County veteran organization. Veterans with mobility needs will be assisted by the Craven County Hospice and Richard Dobbs Spaight NCDAR volunteers
November 11: March for the 22
American Legion Post 539 invites veterans and the community to join the 3rd annual March for the 22. The purpose of this 22 or 2 mile march (walk) is to bring awareness and prevention of 22 veteran suicide deaths that occur each day. Event information is found at March for the 22.
November 13: Vietnam Wall
The English-Speaking Union, New Bern, NC will present details of how the facsimile of the wall came to New Bern. The program is scheduled for 4:00 p.m. at the Cullman Auditorium, NC History Center. Please note that seating is limited.
By Dobert Owsley