Around Town
Join International Paper, Craven County Parks and Recreation, and United Way of Coastal Carolina volunteers will be installing a new Born Learning Trail at West Craven Park on Friday, June 17, 2022. Installation will begin at 8:00 a.m. and a Ribbon Cutting/Grand Opening will be held at 12:00 p.m. The Born Learning Trail will provide opportunities for learning and interaction for the children and families who use the Park.
Audition with RiverTowne Players for Disney's Moana Jr today, starting at 5:30 p.m., tomorrow, June 18 at 10:00 a.m., or email your audition to Aaron.williams@cravenk12.org.
Things to Do
16th: Life on the Lesser Stairs, 3:30 p.m. at Tryon Palace, 529 S. Front St. Call 252-639-3524.
16th: Outlander: Storm of Revolution, 4:15 p.m. at Tryon Palace, 529 S. Front St. Call 252-639-3524.
16th: Zumba in the Park, 6:00 p.m. – 7:30 p.m. at City Park, Havelock. Call 252-671-2678.
16th: The Journey to Juneteenth, 7:00 p.m. at North Carolina History Center, Cullman Performance Hall, 529 S. Front St. Call 252-639-3524.
17th: Classic Cruise-in Night, 5:00 p.m. – 7:00 p.m. at Ghent Sandwich Shop, 1914 Dr MLK Jr Blvd.
17th: 4th Annual Premier Juneteenth Rooftop Celebration, 7:00 p.m. – 11:00 p.m., 405 Middle St.
18th: Coastal Women's Shelter 23rd Annual Run for Shelter, 7:00 a.m. at Creekside Park. Call 252-638-4509 ext. 3 or send an email.
18th: Develop It Yourself Artist Support Conference, 8:00 a.m. – 7:00 p.m. at the Bank of the Arts and the New Bern Civic Theatre. Call 252-638-2577.
18th: Outlander: Spark of the Rebellion, 9:15 a.m. at Tryon Palace, 529 S. Front St. Call 252-639-3524.
18th: The Great Trent River Raft Race, 10:00 a.m. at Union Point Park. Call 252-637-3111.
18th: Demonstration Gardens Tour, 10:00 a.m. at Craven County Cooperative Extension, 300 Industrial Dr. Call 252-633-1477.
18th: Juneteenth Parade/Festival/Duffest 2022, 11:00 a.m. – 4:00 p.m., Broad St.
18th: BBQ Plate Fundraiser for Colonial Capital Humane Society, 12:00 p.m. – 7:00 p.m. at Morgan's Pub, 446 Hwy 70 West, Havelock.
18th: Cedar Grove Cemetery Tour with Earl of Craven Questers, 4:00 p.m., on Queen St. Call New Bern Historical Society at 252-638-8558.
18th: Outlander: Storm of Revolution, 4:15 p.m. at Tryon Palace, 529 S. Front St. Call 252-639-3524.
18th: Lewis n Clark's Expedition: James Taylor & Carole King, 7:30 p.m. at New Bern Civic Theatre, 414 Pollock St.
19th: Behind the Scenes: Conservation Lab, 2:00 p.m. at Tryon Palace, 529 S. Front St. Call 252-639-3524.
Music and Nightlife
Thursday:
– 30 Second Rocks & Jasmine Tasty Thai at BrÜtopia, 1201 US Hwy 70 E.

Friday:
– Due East at Blackbeard's Triple Play, 415 S. Front St.
Saturday:
–  Clarence Coley at Bootleggers and Barrels, 417 S Front St.
Sunday:
– Jenna and Rick Huff at Persimmon's Restaurant, 100 Pollock St.
Check out the New Bern Music Calendar for more — it's a great resource to help you follow and support local bands. Thank you, Joanne Freidman, for creating and maintaining this one-stop shop for us to see who's playing, where.
Arts & Entertainment
Check out the 40-Million-Year-Old Tortoise Fossil and all kinds of artworks at Michaelé Rose Watson's Studio M at 217 Middle St.
"Made in New Bern: Collection Highlights from Craven and Surrounding Counties" is at NC History Center, 529 S. Front St.
"Coastal Photo Club Exhibit" is at New Bern-Craven County Public Library, 400 Johnston St.
"Juneteenth Exhibit" is at Bank of the Arts, 317 Middle St. Call Call 252-638-2577.
"Nature's Palette Exhibit" is at Community Artist Gallery, 309 Middle St.
"Bees and Blooms" Exhibit is at the North Carolina History Center, 529 S. Front St., and on display through August 28.
Activities, Fun, and Games
Visit the New Bern/Craven County Library for free WiFi, computer classes, bingo, book contests, special exhibits, reading programs, DVD/movie rentals, story hours, and more!
Accidental Artist, 219-A Craven St.
Beary The Hatchet Axe Throwing Co., 504 S. Front St.
Bear Towne Escape Room, 233 Middle St.
Jumpin' Jive Battlefield, Laser Tag Center, 2911 Brunswick Ave.
Rollerland, 3502 Neuse Blvd.
Outdoor Life

Enjoy a day at the park – playgrounds, picnic tables, grills, shelters, dog park, fishing piers, and other amenities. There's always fun to be had at the 20 + parks and recreation facilities maintained by Craven County Recreation and Parks and New Bern Parks and Recreation! They offer all kinds of activities from tennis, sand volleyball, bocce ball, kickball, baseball, softball, pickleball, to disc golf and other sports.
Cool off at the New Bern's Aquatics Center at 1155 Laura Ln. and George Street Spray Park located behind the police station.
Prefer paddling? There are plenty of places to launch your boat or watercraft. Rent a canoe at Merchant's Grocery in Brices Creek or watercraft from Stand Up Outfitters on Country Club Rd. Contact the Twin Rivers Paddle Club for a Paddle Trails Packet for mapped trails and launch sites.
Take a walk in the Croatan National Forest or bike, camp, hike, fish, horse riding, observe wildlife, picnic, water activities, etc. For more information, contact the Ranger's station located off Hwy 70 at 252-638-5628.
At the Movies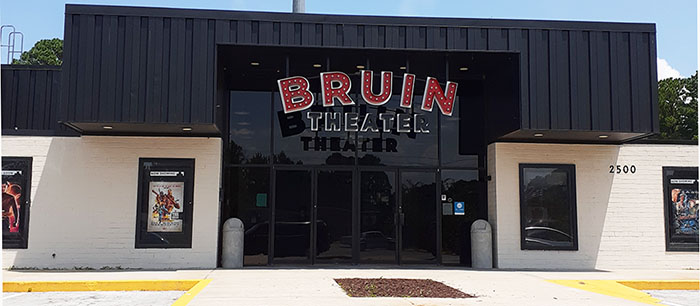 ENC Cinemas: Bear Town Cinema at 2806 Trent Rd. and The Bruin at 2500 Neuse Blvd. Call 633-2772. Lightyear (PG), Jurassic World Dominion (PG13), Downton Abbey: A New Era (PG), and Top Gun: Maverick (PG13) .
Tours
Go on a "Bear Town Bear" Hunt
Take a self-guided tour:
– African American Heritage Tour
– Churches and Cemeteries Tour
– Revolutionary War Walking Tour
Follow the African American Heritage Trail signs to learn about New Bern's history.
Take a self-guided or guided tour of New Bern's Battlefield Park. Call the New Bern Historical Society to arrange guided tours at 638-8558.
Ghost Tour of New Bern, Tuesday thru Saturday. Visit the Black Cat Shoppe located at 246 Middle St. or call 635-1410 for details.
Boaters and Fishermen
Click here for Eastern NC tides, winds, water temperatures, etc.
** Support Our Efforts **
Thank you to everyone who has supported our efforts as our work wouldn't be possible without readers, viewers, and listeners like you.
Reach Out
Is there something you would like featured on the Weekend Happenings or do you have any announcements, articles, event information, and/or news tips to share with readers?
If you are interested in advertising with us, we can help you, too.
It all starts by contacting us here — and thanks for reading and participating.
–> We're accepting submissions for our new Youth Section. Get more details here.
By Wendy Card, Editor