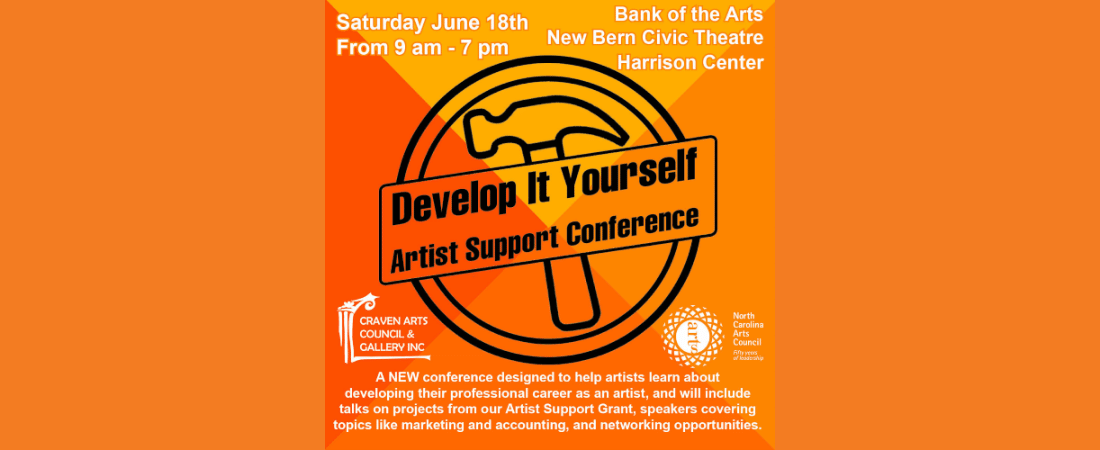 Craven Arts Council & Gallery is proud to present the Develop It Yourself (DIY) Conference at the Bank of the Arts and the New Bern Civic Theatre on June 18. This conference is designed to help new artists with developing their careers and reaching their goals. The conference will be held from 9:00 a.m. to 7:00 p.m.
Join us June 18th for our inaugural Artist Support Conference, Develop It Yourself (DIY)! This event is designed to help artists learn about developing their professional career as an artist and will include talks on projects from the locally available Artist Support Grant speakers covering topics like marketing and accounting, and networking opportunities. This one-day conference will be held in downtown at the Harrison Center, New Bern Civic Theatre and Bank of the Arts.
Many of the day's activities include artists talks from previous artist support grant recipients, lectures on professional development, and a round table discussion with local artist Jill Eberle, Sydney Steen of the North Carolina Arts Council, and Jonathan Burger Executive Director of the Craven Arts Council & Gallery.
See a full schedule of events and register to attend at CravenArts.org!
If you have any questions please contact us via email, over the phone at 252-638-2577, or in person at the Bank of the Arts, 317 Middle St., during regular business hours Tuesday through Saturday from 10:00 a.m. – 5:00 p.m.
By Mairin Gwyn Narron, Development Director