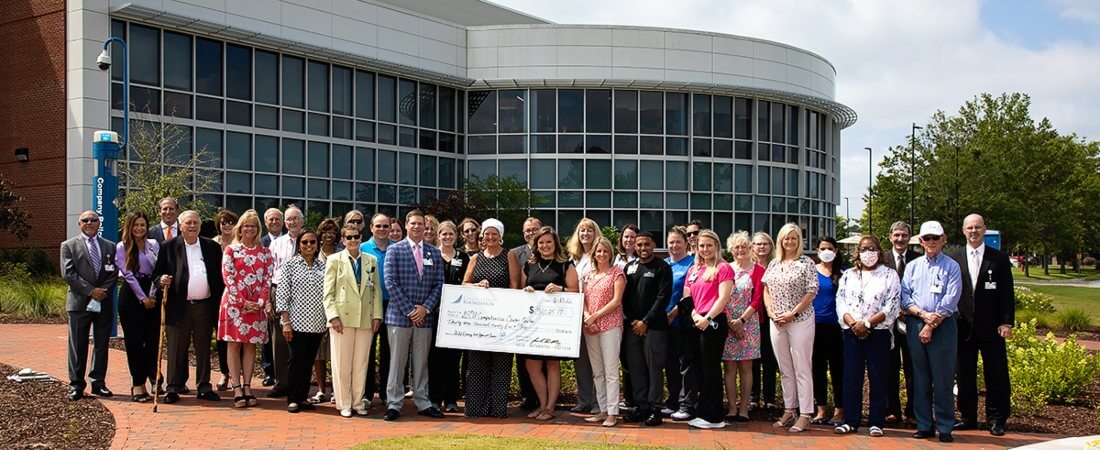 The CarolinaEast Foundation is proud to announce the results of the 2022 "Dining Out Against Cancer" campaign. On each Tuesday during the month of May, the CarolinaEast Foundation hosted "Dining Out Against Cancer" at various local restaurants in New Bern. This year's campaign brought in a remarkable total of $31,025.17.
During this community-wide fundraising event, a portion of the sales at the twenty-nine participating restaurants were donated to the CarolinaEast Foundation and 100% of those dollars are dedicated directly to serving the SECU Comprehensive Cancer Center patients and special programs designed to enhance cancer patients' quality of life.
"We are very grateful for this year's participating restaurants. Thanks to their incredible generosity, we were able to raise a record-breaking amount of money to support our cancer patients and programs," said Jared Brinkley, CarolinaEast Foundation Executive Director. "Next time you are deciding where to eat locally, I hope that you'll consider one of these restaurants that greatly contribute to our community."
The twenty-nine participating restaurants included:
37th Street Pizza – 2402 Neuse Blvd.
Annabelle's Restaurant – 3100 Dr. M.L.K Jr. Blvd., in the New Bern Mall
Arturo's Mexican Restaurant – 1900A South Glenburnie Road
Attitude's Pub & Grille – 32 Shoreline Dr.
Baker's Kitchen – 227 Middle St.
Beartown Bistro & Pizza Company – 1200 US HWY 70
Bella's Café & Catering – 323 Middle St.
Captain Ratty's Seafood & Steakhouse – 202 Middle St.
Carolina Bagel – 3601 Trent Road, Suite 10
Carolina Grill – 998 US HWY 70
Country Biscuit – 809 Broad St.
Cow Café – 319 Middle St.
Crema Brew – 914 Broad St.
Cypress Hall Kitchen & Bar – 219 Middle St.
Famous Baking Company – 2210 Neuse Blvd.
Famous Restaurant – 2210 Neuse Blvd.
Friday's 1890 Seafood – 2307 Neuse Blvd.
Half Time Pub & Grill – 3325 Dr. M.L.K. Jr Blvd.
Kitchen On Trent – 2500 Trent Road #26
La Casetta Italian Restaurant – 2503 Neuse Blvd.
MJ's Raw Bar & Grille – 216 Middle St.
Moore's Olde Tyme Barbeque – 3621 Dr. M.L.K. Jr Blvd.
Morgan's Tavern & Grill – 235 Craven St.
Musashi Japanese Steakhouse – 2041 South Glenburnie Road
Paula's Italian Restaurant – 3946 Dr. M.L.K. Jr Blvd.
Persimmons Waterfront Restaurant – 100 Pollock St.
The Chelsea Restaurant – 335 Middle St.
Vine Café – 3329 Dr. M.L.K. Jr Blvd.
Zaxby's of New Bern – 2006 South Glenburnie Road
If you are interested in learning more about other campaigns or if you would like to donate to the CarolinaEast Foundation, please visit carolinaeastfoundation.com or call 252-633-8247.
By Chelsea Robinson, Public Relations Specialist, CarolinaEast Health System