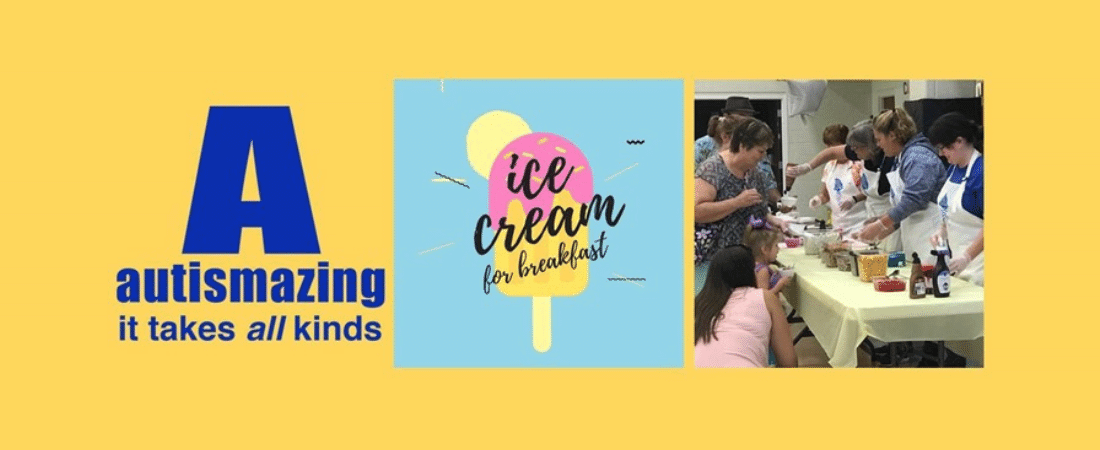 Our 2nd Annual Ice Cream for Breakfast will be held Saturday, August 6 from 8:30 a.m. – 11:30 a.m. at Temple Church, 1500 Kingdom Way, New Bern.
The goal of this fun event is:
Promote autism acceptance and inclusion in our area.
Provide opportunity for autistic and non-autistic persons to network and enjoy the camaraderie.
Provide individuals and families the opportunity to learn about resources to enhance their wellbeings and futures.
We want to make it free for participants and are seeking your support. In addition to covering the costs of this event, proceeds will benefit autistic persons 13-30 years of age in their pursuit of education, employment or entrepreneurship goals.
Autismazing.org is a small, part-time, volunteer nonprofit that is dedicated to improving higher education, employment, and entrepreneurial opportunities for young autistic adults (Autism Spectrum Disorder, Aspergers). Here are a few of the startling statistics we want to impact:
When autistic persons exit high school, they age out of much-needed support services.
Approximately 70% of adults with autism are unemployed vs. 4% US average. This also leads to lack of health insurance needed to support their lifelong disorder; 34.7% attend college vs. 69.2% of non-autistic peers.
These are just some of the numbers we want to improve. Your support will help us achieve this.
Companies and individuals can also make a tax-deductible donation securely online.
For additional information about our event or sponsor levels, visit Autismazing.org/icecream, send an email, or call Deborah Kania at 252-474-5707.
Our belief is the more we experience and appreciate our differences, each person has a better chance to realize their true potential. Thus, our community has a better chance to realize its true potential.
By Deborah Kania, President