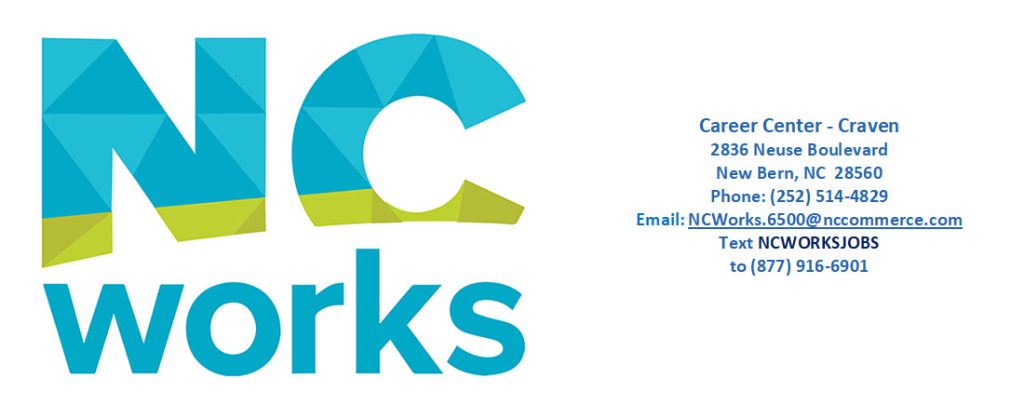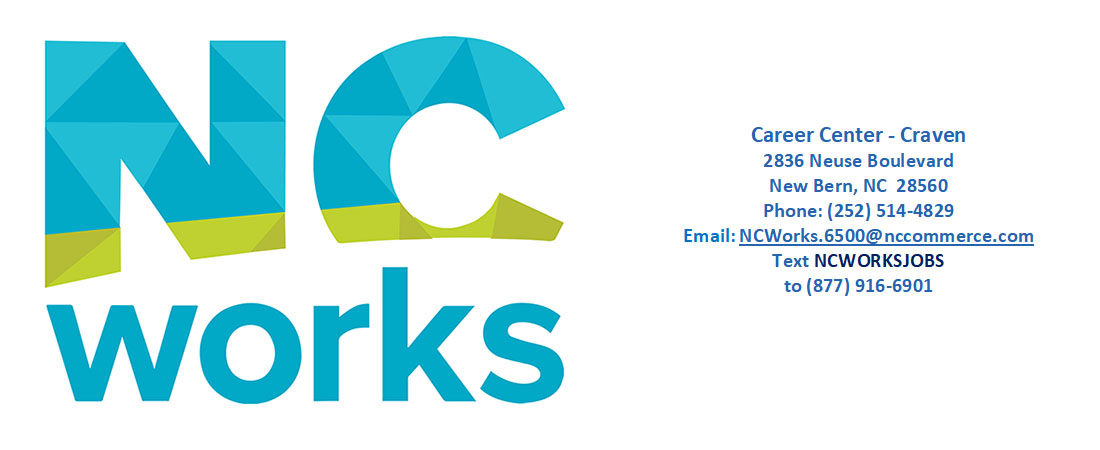 CarolinaEast Health System – EMT/Paramedic [JO #12191214]
City of Havelock – Police Officers Trainee [JO #12187375]
City of New Bern – Canoe & Kayak Attendant (Seasonal/PT) [JO #12183613]
County of Jones – Child Support Agent I [12120117]
County of Pamlico – Animal Control Officer (Part-time) [JO #12189440]
Craven Community College – Director of Community Workforce Readiness [JO #12190904]
Craven County Government – Recreation Maintenance Technician [JO #12188376]
Craven County Sheriff's Dept. – Deputy Sheriff (School Resource Officer) [JO #12187324]
Craven-Pamlico Regional Library – Branch Manager (New Bern) [JO #12191230]
CSG LLC – Order Filler (Cherry Point) [JO #12188941]
Eastern Carolina Council – Temporary Aging Consultant [JO #12184618]
HeartWorks Children's Medical Home – Teacher Aides [JO #12162297]
Johnson, Mirmiran & Thompson – Subsurface Utility Engineering Tech [JO #12188768]
Jones County Public Schools – Mathematics Teachers [JO #12191216]
Landura Management Associates – Apartment Maintenance Tech [JO #12190004]
LHC Group Inc. – Caregiver (Weekly Pay) [JO #12188315]
MERCI Clinic – Spanish Interpreter/Translator (P/T) [JO #12178299]
Mitchell Movers – Movers [JO #12185772]
NC Dept. of Transportation – Engineering Technician I [JO #12190935]
NC State University – COSS County Administrative Assistant [JO #12188797]
Pamlico County Public Schools – Receptionist [JO #12191222]
R. L. Thompson – Dump Truck Drivers [JO #12183401]
The Arora Group, Inc. – Pharmacy Technician [JO #12175648]
Town of River Bend – Public Works Technician I [JO #12187112]
United Home Care, Inc. – Certified Nursing Assistants [JO #12181924]
WorkSteer Staffing – Painters [JO #12175075]
For more details/how to apply, visit ncworks.gov and search by JOB # or Text NCWORKSJOBS to 877-916-6901.
For more information, visit Career Center – Craven, 2836 Neuse Blvd., New Bern, NC, call 252-514-4828, send an email, or text NCWORKSJOBS to 877-916-6901.
Auxiliary aids and services are available upon request for individuals with disabilities. Committed equal opportunity employer/program.
By Reeshema Walker, Center Manager, NCWorks Career Center